Archive of Center for Leadership Excellence Events
The Center for Leadership Excellence (along with its predecessor, the Academy for Leadership Excellence) has hosted well over 100 events, providing regular opportunities for clergy and laity to learn new practices and best strategies for ministry. This list includes all such events to date.
Many of our virtual events are recorded and freely available through the links below. We hope you will find resources among these recordings that are valuable to you and your ministry!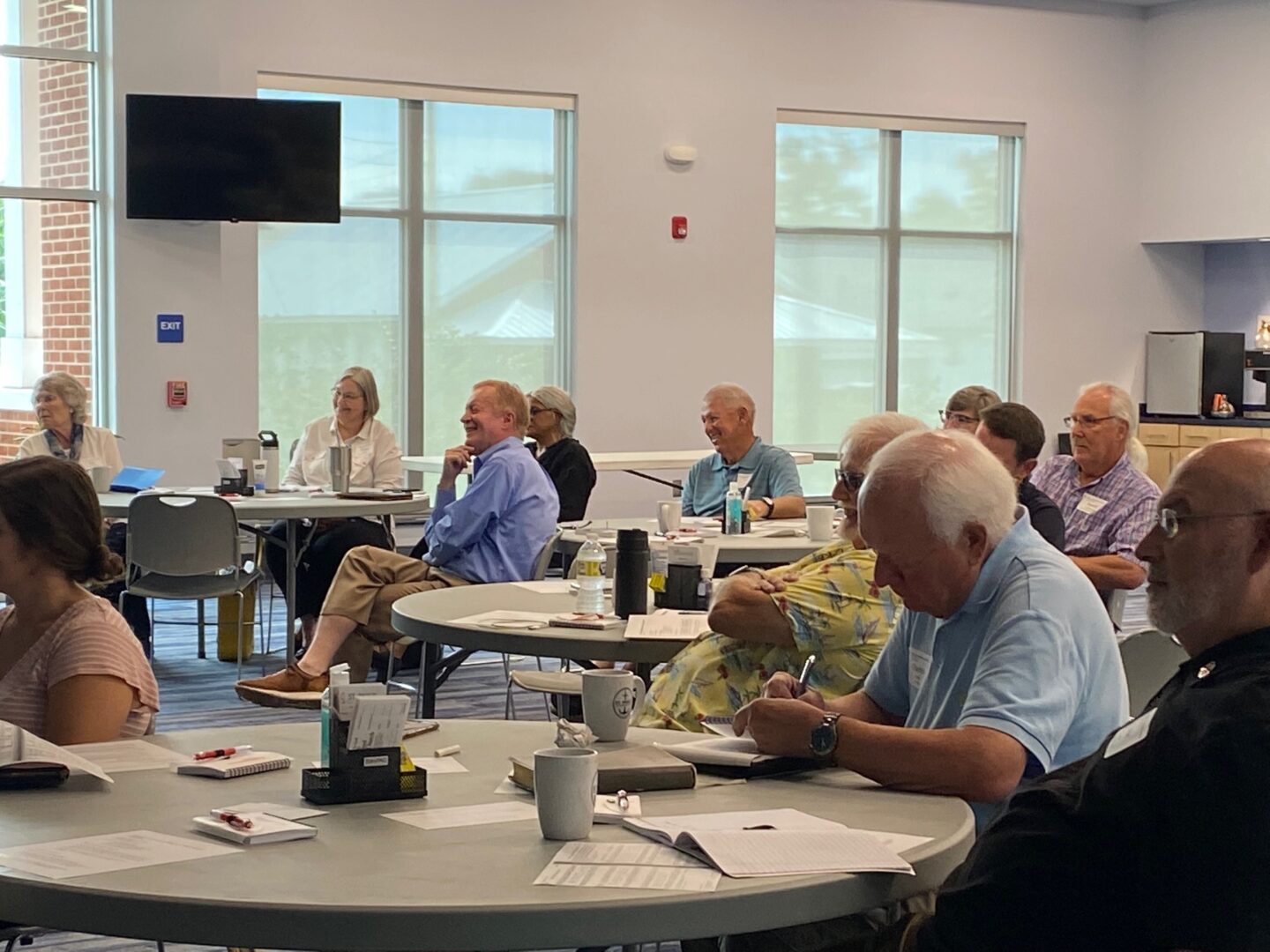 | | | | | |
| --- | --- | --- | --- | --- |
| Event Type | Speaker | Topic | Date | Recording Available? |
| Webinar | Joy Van Staalduinen | Behavior 101: Understanding Human Behavior in Faith Settings | August 31, 2023 | Yes! |
| Webinar | Melinda Baber | Ableism in the Church | August 22, 2023 | Yes! |
| Webinar | Lynn Swedberg | Accessibility Audits and Becoming a Place that Welcomes All | August 15, 2023 | Yes! |
| Webinar | Amy Kenny | Disability Theology | August 1, 2023 | |
| Workshop | Mamie Alley | Safe Sanctuaries Basics and Best Practices | July 19, 2023 | in person event |
| Day of Learning | Johannah Myers | Get Started with Messy Church | May 2, 2023 | in person event |
| Workshop | Bonnie Marden | Courage to Ask: What Your People Want to Hear | March 20, 2023 | Yes! |
| Webinar | Will Willimon | Don't Look Back: United Methodist Hope for the Future | March 9, 2023 | Yes! |
| Webinar | Edgardo Colón-Emeric | El Córazon Ardiente for Renewing Doctrine, Worship, and Missions | February 16, 2023 | Yes! |
| Webinar | Johannah Myers | Messy Church Information Session | January 31, 2023 | Yes! |
| Conference-Wide Leadership Training | Christine Dodson | Finance | January 29, 2023 | Yes! |
| Conference-Wide Leadership Training | John Hall | Lay Leaders | January 29, 2023 | Yes! |
| Conference-Wide Leadership Training | Paul Lee | Nominations | January 29, 2023 | Yes! |
| Conference-Wide Leadership Training | Jon Strother | S/PPRC | January 29, 2023 | Yes! |
| Conference-Wide Leadership Training | Gray Southern | Trustees | January 29, 2023 | Yes! |
| Preaching WELL | Kimberly Wagner | Preaching Amid Trauma and Change | January 25, 2023 | Yes! |
| Webinar | Justin G. Powlison | QPR (Question, Persuade, Refer): Suicide Prevention Equipping for Faith Leaders | November 16, 2022 | |
| Workshop | Mamie Alley | Reviewing & Updating Your Safe Sanctuaries Policy | November 9, 2022 | in person event |
| Partner Event | Elaine Heath | Sound District Clergy Gathering | October 2022 | Yes! |
| Day of Learning | Craig Gilliam | Leading During Anxious Times | October 20, 2022 | in person event |
| Lay Servant Ministries Course | Alan Felton | Leading Bible Study | September 29 – October 20, 2022 | |
| Workshop | Julian Pridgen, Matt Evans, LuAnn Charlton, Allen Waller, Jermaine Armour and Beth Hood | Relational and Ecumenical Ministry | September 27, 2022 | in person event |
| Workshop | Diane Degnan | Dealing with the News Media | August 24, 2022 | Yes! |
| Workshop | Y. Joy Harris-Smith and Carolyn B. Helsel | The ABCs of Diversity: Helping Kids (and Ourselves!) Engage Our Differences | August 23, 2022 | Yes! |
| Workshop | Diane Degnan | Audiences and Messaging | August 17, 2022 | Yes! |
| Workshop | Diane Degnan | Crisis Planning and Strategic Response | August 10, 2022 | Yes! |
| Webinar | Jeff Hutchins | Insights into Aging and the Decisions Older Adults Face | June 22, 2022 | Yes! |
| Workshop | Jonathan Wilson-Hartgorve | Moral Leadership in Public Life | April 26 – May 17, 2022 | |
| Workshop | Pat Grace | Sacred Expeditions: Seeking the Treasure in Congregational Stories | March 22, 2022 | Yes! |
| Webinar | Molly Shivers | Engaging Conflict Faithfully | March 9, 2022 | Yes! |
| Workshop | Jim Harnish | Demystifying Devotions | February 15, 2022 | Yes! |
| Webinar | Molly Shivers | Relational Covenants | January 23, 2022 | Yes! |
| Conference-Wide Leadership Training | Christine Dodson | Finance Training | January 9, 2022 | Yes! |
| Conference-Wide Leadership Training | John Hall | Lay Leader Training | January 9, 2022 | Yes! |
| Conference-Wide Leadership Training | Beth Hood | S/PPRC Training | January 9, 2022 | Yes! |
| Conference-Wide Leadership Training | Gray Southern | Trustees Training | January 9, 2022 | Yes! |
| Webinar | Courtney Ellis | Happiness: Incorporating Playfulness into Our Lives and Churches | November 30, 2021 | Yes! |
| Webinar | Jennifer Williams and Scott McKenzie | Finishing with a Purpose: Strategizing End of Year Giving | November 17, 2021 | Yes! |
| Preaching WELL | Kevin Baker and Crystal DesVignes | Preaching and Trauma | October 28, 2021 | Yes! |
| Preaching WELL | Justin Coleman and Jabe Largen | Preaching Across the Red/Blue Divide | October 21, 2021 | Yes! |
| Preaching WELL | Lisa Yebuah and Eric Packard | Anti-Racist Preaching | October 14, 2021 | Yes! |
| Workshop | Tom Berlin | Choosing Abundance | October 13, 2021 | Yes! |
| Webinar | Chuck Salter | Making the Most of MissionInsite | October 5, 2021 | Yes! |
| Webinar | Care4Carolina | Caring for Others: Closing the Healthcare Gap in North Carolina | September 22, 2021 | Yes! |
| Workshop | Jason Moore | Both/And: To Be Continued | September 15, 2021 | |
| Webinar | Karen Tripp | Re-Engaging Volunteers: One Solution for Church Growth | August 17, 2021 | Yes! |
| Workshop | Susan Beaumont | How to Lead When You Don't Know Where You Are Going, Session 3: Coaxing Order Out of Chaos | May 26, 2021 | |
| Follow-Up Conversation | Jason Moore | Follow-Up Conversation to Both/And: Maximizing Hybrid Worship Experiences for Online and In-Person Audiences | May 25, 2021 | |
| Workshop | Susan Beaumont | How to Lead When You Don't Know Where You Are Going, Session 2: Engaging the Soulfulness of Institution | May 19, 2021 | |
| Webinar | Susan Beaumont | How to Lead When You Don't Know Where You Are Going, Session 1: Negotiating a Liminal Season | May 12, 2021 | |
| Transition Seminar | Kay Kotan | Laity Transition Seminar | May 6, 2021 | Yes! |
| Transition Seminar | Kay Kotan | Clergy Transition Seminar | May 6, 2021 | |
| Workshop | Jason Moore | Both/And: Maximizing Hybrid Worship for Online and In-Person Audiences | April 27, 2021 | |
| Webinar | Matthew Sleeth | Hope Always: How to Be a Force for Hope in a Culture of Suicide | April 14, 2021 | Yes! |
| Webinar | Annie Schmidt and Penny Carlo | The Church Responds to Mental Health, Part 3: FaithNet | March 24, 2021 | Yes! |
| Webinar | Ira Landis | The Church Responds to Mental Health, Part 2: In Our Own Voice | March 10, 2021 | |
| Workshop | Donna Claycomb Sokol | Evaluating, Eliminating, Energizing: Making Ministry Matter | February 24, 2021 | Yes! |
| Webinar | Sandra and Dale Mann | The Church Responds to Mental Health, Part 1: Family and Friends | February 9, 2021 | |
| Day of Learning | Ellen Ott Marshall | Living Together in the Midst of Conflict | January 27, 2021 | Yes! |
| Webinar | Alexis Carter Thomas | Contemplating Our Year | January 13, 2021 | Yes! |
| Conference-Wide Leadership Training | Gray Southern | Conference-Wide Leadership Training: Trustees | January 10, 2021 | Yes! |
| Conference-Wide Leadership Training | Christine Dodson | Conference-Wide Leadership Training: Finance | January 10, 2021 | Yes! |
| Conference-Wide Leadership Training | John Hall | Conference-Wide Leadership Training: Lay Leader | January 10, 2021 | Yes! |
| Conference-Wide Leadership Training | Beth Hood | Conference-Wide Leadership Training: S/PPRC | January 10, 2021 | Yes! |
| Conference-Wide Leadership Training | Mark Schneider | Conference-Wide Leadership Training: State of the Connection | January 10, 2021 | Yes! |
| Webinar | J. Dana Trent | Coping with the Pandemic of Grief | November 18, 2020 | Yes! |
| Webinar | Michael Burns | Crossroads 2020: Week 5 | November 9, 2020 | Yes! |
| Webinar | Sangwoo Kim | Crossroads 2020: Week 4 | November 2, 2020 | Yes! |
| Day of Learning | Kay Kotan | Mission: Possible! A Simple Structure for Missional Effectiveness | October 27, 2020 | Yes! |
| Webinar | Malinda Maynor Lowery | Crossroads 2020: Week 3 | October 26, 2020 | Yes! |
| Webinar | Michael Battle | Crossroads 2020: Week 2 | October 19, 2020 | Yes! |
| Workshop | Richard Blackburn | Casting the First Stone: Church Conflict and the Scapegoat Mechanism | October 14, 2020 | |
| Webinar | Robert Chao Romero | Crossroads 2020: Week 1 | October 12, 2020 | Yes! |
| Day of Learning | Matt Miofski | Leaning into the Future without Fear | September 29, 2020 | Yes! |
| Webinar | Ann Street UMC, Christ UMC, and University UMC | Stepping into E-Learning: Engaging Church and Educational Partnerships | September 16, 2020 | Yes! |
| Webinar | Alan Wildes | Making Disciples, not Donors: Reconnecting with the Heart of Biblical Generosity | September 9, 2020 | Yes! |
| Webinar | Sue Nilson Kibbey | Breakthrough Prayer for the Coming Season | August 26, 2020 | Yes! |
| Webinar | Jimmy McKinnell and Michelle Osborne | Food, Faith, and Justice: Theological Framework and Practical Examples | August 19, 2020 | Yes! |
| Webinar | Brent A. Strawn | Lies My Preacher Told Me: An Honest Look at the Old Testament | July 29, 2020 | Yes! |
| Webinar | Donna Fowler-Marchant | Mothers in Israel: Impudent Women in Early English Methodism | July 15, 2020 | Yes! |
| Webinar | Sarah Heath | Preaching through a Pandemic: Using our Experiences as Assets | June 29, 2020 | Yes! |
| Webinar | Megan Smith and Cynthia Hancock | Faith Communities, Older Adults, and COVID-19 | June 16, 2020 | Yes! |
| Webinar | Chad Wright-Pittman | Poets, Prophets, and Preaching | June 2, 2020 | Yes! |
| Webinar | Donna Coletrane Battle | Self Care as Spiritual Practice for Leaders of Color | May 27, 2020 | Yes! |
| Webinar | Amy Thompson | Help! How Can I Respond to the Emotions? | May 20, 2020 | Yes! |
| Webinar | Alix Felsing | Resilience: Bouncing Back in Troubled Times | May 13, 2020 | Yes! |
| Webinar | Randy Maddox | Ministering to the Whole Person: Wesleyan Precedents for Ministry in a Pandemic | May 5, 2020 | Yes! |
| Webinar | Kimberly Wagner | In it Together: Trauma and Preaching During COVID-19 | April 28, 2020 | Yes! |
| Transition Seminar | Doug Anderson | Making the Good Move | April 30, 2020 | Yes! |
| Webinar | Sarah Heath | Finding New in the Familiar: Reading Scripture with Fresh Eyes | April 23, 2020 | Yes! |
| Webinar | Christine Parton Burkett | Livestreaming Jesus: Adapting to Preaching Online | April 14, 2020 | Yes! |
| Webinar | Jim Harnish | The Pandemic and the Offering Plate: Talking about Money During the Coronavirus Crisis | April 2, 2020 | Yes! |
| Webinar | Winston Charles | Living from the Heart at a Time of Heightened Anxiety | March 26, 2020 | Yes! |
| Webinar | Ellen Ott Marshall | Living Together in the Midst of Conflict | March 18, 2020 | Yes! |
| Webinar | Margaret Brunson | Change: From Comfort to Courage | January 27, 2020 | Yes! |
| Day of Learning | Ginger Gaines-Cirelli and Clayton Childers | Sacred Resistance and Moving from Charity to Solidarity | October 29, 2019 | in person event |
| Webinar | Katelin Hansen | Divine Abundance: Recognizing (and Realizing) it in Your Church | October 1, 2019 | Yes! |
| Day of Learning | Phil Maynard | Authentic Relationships | September 24-25, 2019 | in person event |
| Webinar | Carl Sigel and Stephanie Allen | Caring for God's Creation | April 30, 2019 | Yes! |
| Webinar | Linda Harris | Embracing Conflict and Building Understanding | March 26, 2019 | Yes! |
| Day of Learning | Anna Carter Florence | Rehearsing Scripture: Discovering God's Word in Community | March 20, 2019 | in person event |
| Workshop | Winston Charles | Contemplative Prayer, Contemplative Living, Contemplative Leadership | February 26, 2019 | in person event |
| Webinar | Carolyn Helsel | Anxious to Talk About It: Helping White Christians Talk Faithfully About Racism | February 13, 2019 | Yes! |
| Day of Learning | Anissa Ferris | The Enneagram: A Tool for Transforming Relationships | February 5, 2019 | in person event |
| Webinar | Tim Kim | Necessity is the Mother of … Innovation | November 8, 2018 | Yes! |
| Webinar | Audrey Warren | Innovation through Fresh Expressions | November 1, 2018 | Yes! |
| Webinar | Dawn Dillon | Resilience: What to Do When Innovation Doesn't Work as Planned | October 25, 2018 | Yes! |
| Webinar | Jason Schreuder | A Culture of Great Meetings | September 6, 2018 | Yes! |
| Webinar | Dan Wunderlich | Facebook … Adapting Strategies | July 19, 2018 | Yes! |
| Day of Learning | Christian Coon | Failing Boldly | October 16, 2018 | in person event |
| Day of Learning | Heather Heinzman Lear | Evangelism for Non-Evangelists | September 24, 2018 | in person event |
| Day of Learning | Donna Claycomb Sokol and Roger Owens | A New Day in Your Congregation | June 5, 2018 | in person event |
| Transition Seminar | Doug Anderson | Making the Good Move | April 19, 2018 | in person event |
| Day of Learning | Doug Anderson | Get Their Name | May 4, 2017 | in person event |
| Day of Learning | Dan Wunderlich | Online and Social Media, Part 2 | April 4, 2017 | in person event |
| Day of Learning | Will Willimon | Confronting Racism in Preaching | March 21, 2017 | in person event |
| Day of Learning | Mark Hicks and Douglass Campbell | Restorative Justice and Prison Ministry | March 14, 2017 | in person event |
| Day of Learning | Dan Wunderlich | Online and Social Media, Part 1 | February 7, 2017 | in person event |
| Day of Learning | Mitzi Johnson and Liz Hounshell | Me Teach?: Claiming the Teaching Office of Ministry | November 17, 2016 | in person event |
| Day of Learning | Travis Collins and Shannon Kiser | Fresh Expressions Vision Day | November 1, 2016 | in person event |
| Day of Learning | Will Willimon | Seasons of Ministry | September 15, 2016 | in person event |
| Day of Learning | Jim Harnish | Wesley's Way with Money | May 24-25, 2016 | in person event |
| Transition Seminar | Doug Anderson | Making the Good Move | May 3, 2016 | in person event |
| Day of Learning | Doug Anderson | Reaching Millennials and Congregational Change | April 20, 2016 | in person event |
| Day of Learning | Shelly Rambo and Warren Kinghorn | Providing Support for Veterans and their Families Dealing with Moral Injury | March 8, 2016 | in person event |
| Day of Learning | Christine Pohl | Practices for Sustaining Community | September 24, 2015 | in person event |
| Day of Learning | Jo Saxton | Missional Evangelism | May 19, 2015 | in person event |
| Day of Learning | Doug Anderson | Leading the Multiple Staff Church | April 30, 2015 | in person event |
| Transition Seminar | Doug Anderson | Making the Good Move | April 29, 2015 | in person event |
| Day of Learning | JustPeace | Leading During Anxious Times | March 3, 2015 | in person event |
| Day of Learning | John Fenner, Russ Moxley, and Erin Lane with the Center for Courage | Ministry Integrity and Wholeness | September 23, 2014 | in person event |
| Day of Learning | Christian Community Development | Listening to Your Community | May 20, 2014 | in person event |
| Transition Seminar | Doug Anderson | Making the Good Move | May 1, 2014 | in person event |
| Day of Learning | Karen Lampe and Wendy Chrostek | Congregational Care | February 18, 2014 | in person event |
| Transition Seminar | Doug Anderson | Making the Good Move | April 16, 2013 | in person event |
| Day of Learning | Eddie Hammett | How to Keep the Under 40s, Without Losing the Over 60s | November 20, 2013 | in person event |
| Day of Learning | Bruce Epperly | Leading from the Center: Spiritual Practices for Leadership Excellence | May 8, 2013 | in person event |
| Leadership over Lunch | Beth Hood | Building a Covenant with your Leadership Team, Part 2 | November 15, 2012 | in person event |
| Leadership over Lunch | Beth Hood | Building a Covenant with your Leadership Team, Part 1 | August 23, 2012 | in person event |
| Leadership over Lunch | Sheila Ahler | Financial Literacy | July 19, 2012 | in person event |
| Day of Learning | Ron Carucci and Josh Epperson | Bridging the Generational Divide | May 8, 2012 | in person event |
| Leadership over Lunch | Carlin Johnson | Time Management | April 19, 2012 | in person event |
| Day of Learning | Rudy Rasmus | Leading with an Entrepreneurial Spirit | March 6, 2012 | in person event |
| Day of Learning | Reggie McNeal | Paying Attention to the Leader in Leadership | November 8, 2011 | in person event |
| Day of Learning | Rick Rusaw | Leading an Externally Focused Church | September 20, 2011 | in person event |
| Day of Learning | James C. Hunter | Living as a Servant Leader: The True Essence of Leadership | May 3, 2011 | in person event |
| Day of Learning | Mike Slaughter | Holistic Stewardship | April 5, 2011 | in person event |
| Day of Learning | Alan Hirsch | The Shape of Things to Come: Innovation and Mission for the 21st Century Church | March 2, 2011 | in person event |
| Day of Learning | Sue Nilson Kibbey | Ultimately Responsible: When You're in Charge of Igniting Ministry | November 9-10, 2010 | in person event |
| Day of Learning | Jim Harnish | Planning Worship that Works | September 16, 2010 | in person event |
| Day of Learning | Jorge Acevedo | Being a Transformational Leader | March 2, 2010 | in person event |
| Day of Learning | Mark Beeson | Building the Team Around You | November 10, 2009 | in person event |
| Day of Learning | Russ Moxley | Managing Conflict More Effectively | September 22, 2009 | in person event |
| Day of Learning | Ken Garfield | How to More Effectively Connect with Your Community | March 3, 2009 | in person event |