Hurricane Florence caused severe flooding and wind damage across North Carolina. The Wallace family was one of many whose home was flooded due to Hurricane Florence.
A family member found the home under 2 feet of water. The roof and ceiling were also damaged due to high winds. Once the flooding subsided, the damaged materials were removed from the home.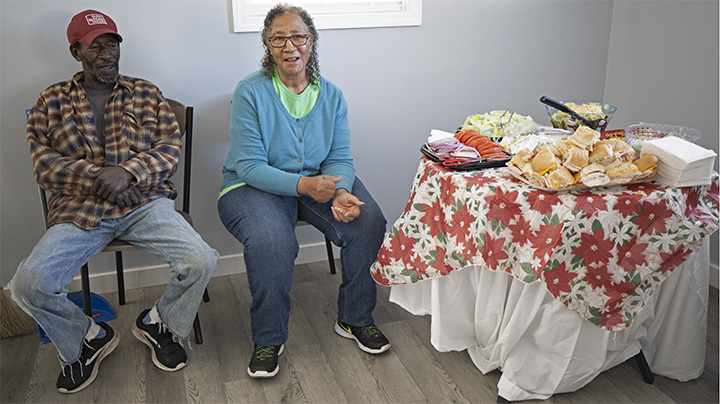 Volunteer teams began to install new floor joists and insulation to repair the roof. Other local organizations contributed appliances, materials, and furniture. Some of the organizations include: Carteret Warriors for Recovery, Carteret Long Term Recovery Alliance, Endeavors, One Harbor Church, Reach Global Crisis Response, Ann Street UMC, and the American Red Cross. With the help of the Newport Disaster Ministries Center, volunteers, and partners, the Wallace family was able to return home for Christmas.
Earlier this month, family, friends, volunteers, and the Disaster Ministries team gathered together to bless the Wallace family's new home. The celebration began with song, as family and friends sang "This is the Day the Lord has Made". The Disaster Ministries team thanked all of the volunteers and partnering organizations who helped the Wallace family return home.
The Newport Disaster Ministries team then presented the Wallace family with the keys to their newly repaired home. The homeowners also received a quilt and prayer shawl crafted by two churches. The celebration closed with prayer and scripture reading from 2 Corinthians.
The Wallace family is so grateful for all of the volunteers who helped their family return home. Thank you to all of the partners and volunteers who have donated their time and gifts to those in need.
Join Disaster Ministries to help restore hope for the hundreds of disaster survivors still waiting for assistance. Call 888-440-9167 or email disaster@nccumc.org to learn how you can help others in need.