Windsor UMC in Windsor, North Carolina gathered following Hurricane Dorian to assemble cleaning kits for those affected by the storm. Below is Pastor Joan Fischer's account of the church's involvement.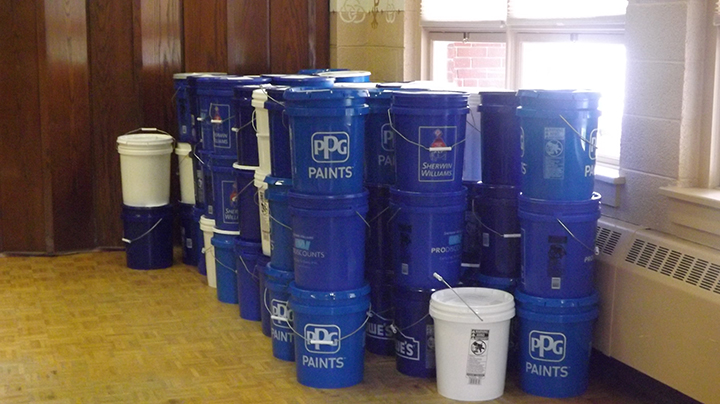 "On Sunday morning, September 8, the members of Windsor UMC gathered for worship as is their custom. This worship time was different. This morning they gathered with no lights, no bulletins, no candles lit, and no music… because so many could not gather as is their custom. 
"Sanctuary" was sung a capella, prayers were lifted for survivors, for communities, for first responders, and for all those assessing the damage and making plans for relief and recovery.
An offering was received. Scripture was read from James 2 and then the members were invited into the fellowship hall to put actions with their prayers inspecting cleaning kits. 
All who could moved to the fellowship hall. Not long after that, they were joined by members of Holy Spirit Catholic Church with whom Windsor shares their facility. There was excitement, joy, laughter, and sweat. 
In little over an hour, 144 buckets had been inspected. Perhaps more importantly, relationships were started, hearts and hands were united in a common cause — to be the body of Christ in the world.
To God be the glory."