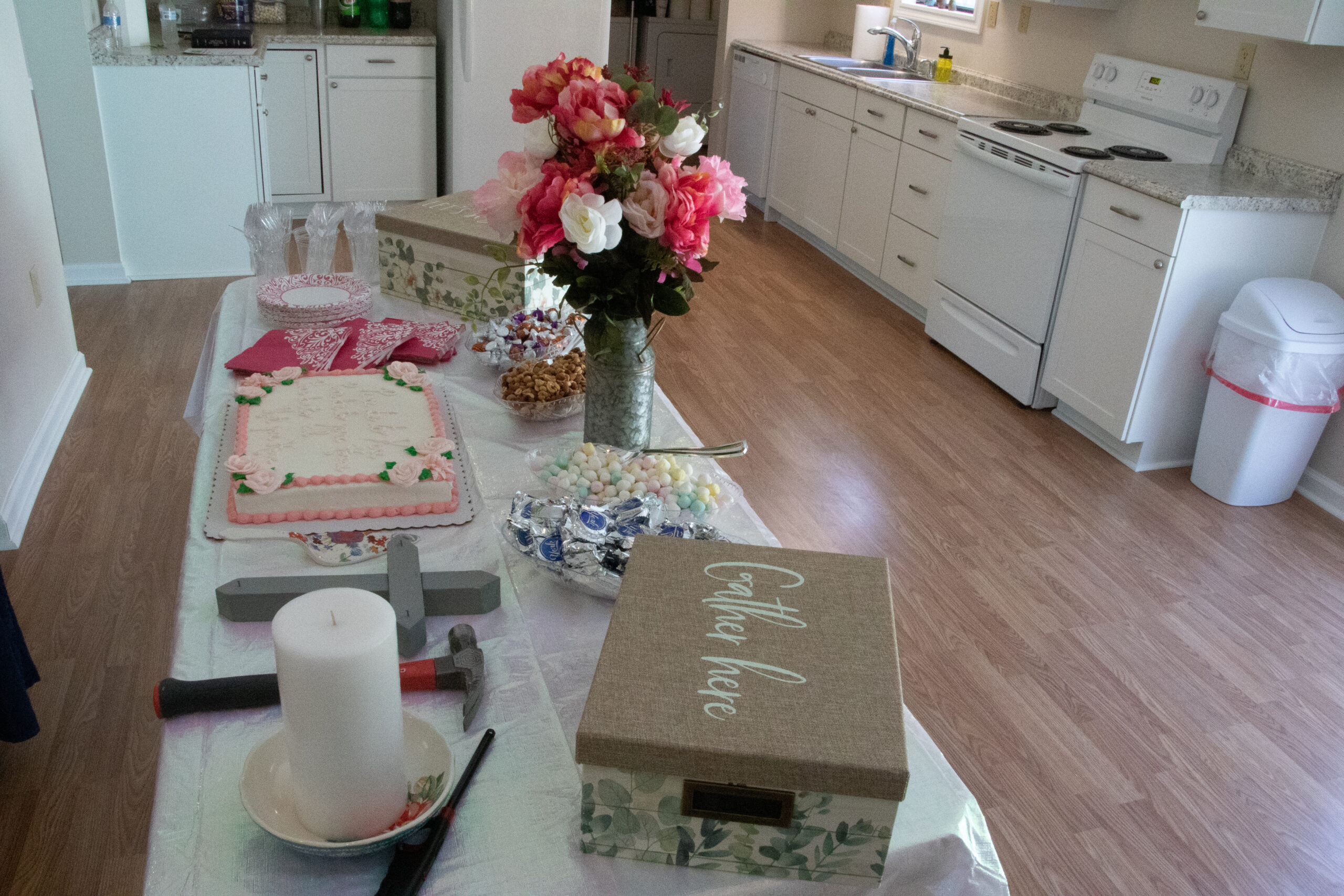 October 11th was a day of celebration for the Swansboro Disaster Response Center. Friends, family, and volunteers gathered to celebrate Joan's return home after a year of reconstruction due to Hurricane Florence.
Joan was grateful to all who helped her family regain a sense of normalcy after their lives were uprooted. Joan's return home was not just a gift for her family, but also for the Disaster Ministries team. They cherished the relationships they built with Joan's family during reconstruction.
Watch a video of the house blessing – the text of the house blessing is available below so you can follow along.
Opening Prayer (Stephanie Hunt, Site Manager)
Almighty God, to whose glory we celebrate the dedication of this family home. We praise you for the abundance you have given to those who live here and we pray that all who come through the doors of this place find generous hospitality, experiences the joy of family, and know the security of living in grace. Be with Joan and all who call this dwelling home, that each may count the blessings of this building, the love contained within, and recognize the gifts of your promises to be with them from this day and forevermore.
Sermon (Pastor Adam Barth, Swansboro United Methodist Church)
Dedication (Lisa Potts, Case Manager)
We have gathered as family of God to celebrate with thanksgiving the rebuilding of this home. As friends and family, we lift up Joan's home to the glory of God. We are each aware of our need for a roof over our heads and walls around us to provide a place where the sacred love of family can be nurtured. We celebrate the lives of the volunteers who have made this home a safe and secure environment to live life to its fullest. As we celebrate how God has been present in the shaping of this space, let us consecrate this home as a place where the children of God will be loved, the Christian faith lived out, and the family will find sanctuary within its walls.
Lighting of the Candle (Jessica Hunt, Case Manager)
You are a light of the world. A town put on a hill may be seen by all as a burning light that is not put under a vessel, but on its table, so that it's rays may be shining on all who are in the house. Even so, let your light be shining before men so that they may see your good works and give glory to your Father in heaven. Matthew 5:14-16
Hanging of the Cross (Alex Hunt, Construction Manager)
You are God and your words are true and you have said you will give your servant this good thing. So may it be your pleasure to give your blessing to this family so that it may go on forever before you and may your blessing be on your servant's family life forever. 2 Samuel 7: 28-29
Blessing (Stephanie Hunt, Site Manager)
Wondrous God, you dwell on this earth among us and make yourself intimately known in the places we dwell. We ask you to bless this house and use it for your glory through the lives who make it their home.
Fill this building with your Holy Spirit. May it's walls, it's furnishings, it's presence in the community declare your praise.
As we ask your blessing upon this house, we ask that it's security and comfort for Joan and her family be recognized and show God's loving kindness as a light upon a stand that leads others.
Accept the joy that comes from a place of their own, the peace that comes from within these walls, the confidence of a secure environment and the security of the love that brings you home.
May the needs found within this home bring forth dependence upon you Lord and may you attend to every uttered prayer, aloud or in secret, touching each heart that no prayer goes unanswered.
As people are greeted into this house, may they know what it means to be welcomed into your outstretched arms, embraced with a love that draws them even closer to you.
May this home find a new place of commitment to each other, a sense of peace and belonging, a comforting hope that replaces grief and loss and a sacred sense of worth.
May all who find themselves within these walls come to know a renewed and empowering awareness of your sheltering presence in this world.
Closing (Rev. Adam Barth, Swansboro UMC)
In peace I will both lie down and sleep, for you alone, o Lord, make me dwell safely. Psalm 4:8
The Lord bless you and keep you, the Lord make his face shine upon you and be gracious unto you, the Lord lift up his countenance upon you and give you peace. Numbers 6:24-26