The #BeUMC campaign reminds us of who we are at our best — the spirit-filled, resilient, connected, missional, faithful, diverse, deeply rooted, committed, disciple-making, Jesus-seeking, generous, justice-seeking, world-changing, grace-filled people of God called The United Methodist Church.
With every breath, with every thought, we strive to focus on Jesus.
We recommend these resources to help us keep Jesus in our focus. This list includes:
Small-Group DVD Studies
Women's DVD Studies
Books for Becoming Like Jesus
Curriculum for Youth & Children
Small-Group DVD Studies
Questions Jesus Asked: A Six-Week Study in the Gospels by Magrey R. deVega. Pastor and author Magrey deVega explores six of the most provocative questions Jesus posed to others and guides us in answering them for ourselves. Asking these questions takes courage. Not only do they reveal what Jesus really cares about, they open a window into our hearts.
Signs and Wonders: A Beginner's Guide to the Miracles of Jesus by Amy-Jill Levine. Amy-Jill Levine explores selected miracles of Jesus in historical and theological context. For each miracle, she discusses not only how past witnesses would have understood the events, but also how today's readers can draw meaning from Jesus's words and actions.
Jesus Revealed: The I Am Statements in the Gospel of John by Matt Rawle. Pastor and author Matt Rawle explores the "I Am" statements in John as works of art that resonate throughout the Gospel and all of Scripture. He shows how these words point beyond themselves to the deep mystery of Jesus Christ.
Courage: Jesus and the Call to Brave Faith by Tom Berlin. Throughout Jesus' life, he was called upon to be brave: in the face of his enemies, when being tempted, and certainly at the time of his death. By examining the life of Christ, we can begin to understand what true courage is and how God works in our lives when we exhibit a brave faith.
The Jesus Challenge: 21 Days of Loving God and Neighbor by Justin LaRosa. To say we live lives full of distractions is an understatement. So, how do we combat distraction? To stay in relationship with God is a journey that never ends and one that requires us to focus on love. This 3-week study will help us become more attentive to our relationship with God.
The God We Can Know: Exploring the "I Am" Sayings of Jesus by Rob Fuquay. This series will help you find and form an answer to the most essential question in the Christian faith, "Who do you say I am?" One by one, Jesus' statements grab our imagination, reveal more about his identity and purpose, and connect us to the God of Moses, who spoke the first "I Am."
The Way: Walking in the Footsteps of Jesus by Adam Hamilton. Using historical information, archaeological data, and stories of the faith, Hamilton follows in the footsteps of Jesus from his baptism to the temptations to the heart of his ministry, including the people he loved, the parables he taught, the enemies he made, and the healing he brought.
Jesus in the Gospels from Abingdon Press. Study the name, the place, and the people, and encounter the Jesus who is both hard to ignore and hard to control–a commanding, morally compelling figure as portrayed in Matthew, Mark, Luke and John. This 30-week study is part of the Disciple Second Generation series.
Women's DVD Studies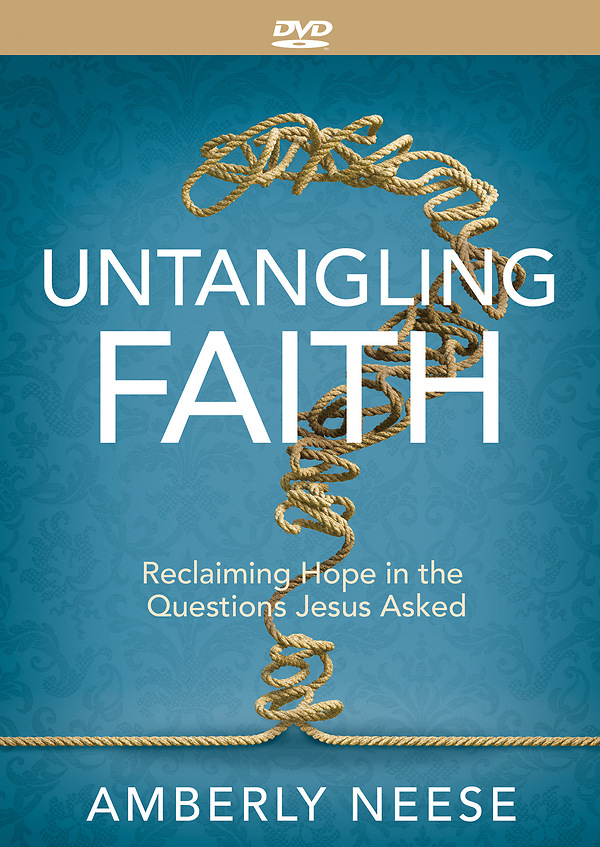 Untangling Faith: Reclaiming Hope in the Questions Jesus Asked by Amberly Neese. Have you ever felt you struggled to find your faith footing? Join Amberly Neese in she explores the questions Jesus asked as a way to reclaim that faith. Amberly's unique humor and wit help the whole group find their way through deep and rich issues of personal faith, doubt, and growth.
Surrendered: Letting Go & Living Like Jesus: A Study of Jesus in the Wilderness by Barb Roose. This six-week study especially for women explores Jesus in the wilderness and gives six practical principles that will equip you to let God lead you to victory and peace, despite your unchanging and challenging circumstances. Learn how to surrender like Jesus and experience God's power and peace in your life as never before.
Determined: Living Like Jesus in Every Moment: A Study of Luke by Heather M. Dixon. How do we walk out unwavering joy-filled faith every day, determined to let go of the things that keep us from experiencing abundant life and fulfilling the plans God has for us? The answers are found in following the footsteps of the One who lived fully because He was determined that we might do the same.
The Miracles of Jesus: Finding God in Desperate Moments by Jessica LaGrone. Jessica LaGrone leads us on a captivating exploration of the miracles of Jesus, helping us to see that our weakness is an invitation for God to work powerfully in our lives and reminding us that we need God on our best days just as much as we do on our worst.
Books for Becoming Like Jesus
Discipleship Path: Guiding Congregations to Connect with Jesus by Quincy D. Brown. What are the next steps to get churches to move from program to pathways that help people to practice the marks of discipleship: Presence, Service, Prayers, Gifts, and Witness? The first-century Jewish world of Jesus influences this shift of emphasis from program to path.
Dream Like Jesus: Deepen Your Faith and Bring the Impossible to Life by Rebekah Simon-Peter. Come know Jesus, and yourself, in a whole new way. It's time to dream like Jesus. And time to share that dream with the people you love, teach, and lead. Drawing on her family roots of both Jewish and Christian faith, she challenges the Church to dream again, to recapture the vision of making the Kingdom of God a reality.
Worship Like Jesus: A Guide for Every Follower by Constance M. Cherry. Learn what worship is, why we do it, and how Jesus shows us the way. Worship like Jesus will help ministry leaders share the basic meaning and purpose of worship with everyone in their congregation, using Jesus' model of worship.
Apprenticed to Jesus: Christian Practices for Growing Disciples by Thomas R. Hawkins. Using the call narratives in the Gospels of Mark and Matthew, this book connects discipleship with the purpose and mission of the church: our participation in God's plan to heal a broken creation. It will motivate participants to reflect on their own discipleship in engaging and effective ways.
Curriculum for Youth & Children
Who Do You Say That I Am? Meeting Jesus through the Eyes of Mark by Carolyn Poling. The study guides youth through the Gospel of Mark, helping them to define who Jesus is to them, who he says he is in scripture, and how this impacts how we live our lives.
Marked: A Mission Journey with Jesus in the Gospel of Mark by Rita Hays. Children ages five to twelve are invited on a journey where they will discover the power of God through this fast-paced Gospel of Mark.
Who is Jesus? A Six-Week Study for Tweens by Carol McDonough & Marcia Stoner. Tweens will explore what it means to have God with us in our daily human experience. This book contains six sessions that take tweens from the birth of Jesus to the Resurrection to discover Jesus as Lord.
Why Jesus for Me? A Six-Week Study for Tweens by Carol McDonough & Marcia Stoner. Both tweens who attend Sunday school regularly and tweens who are new to the church experience will explore what it means to have Jesus as our Savior. It contains six sessions that will explore Jesus and why we celebrate his birth, death, and resurrection and their meaning to us.