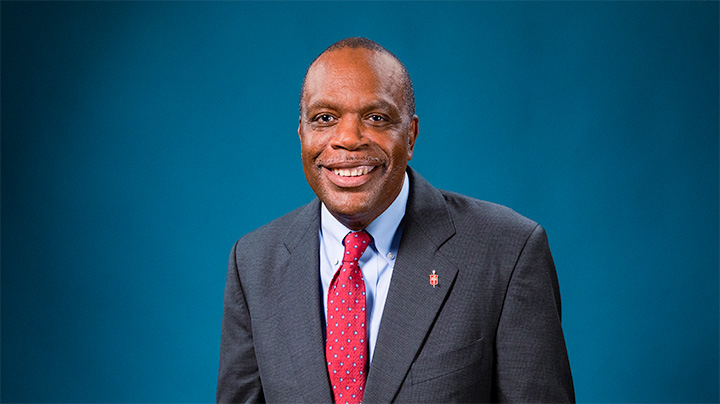 Bishop Leonard Fairley was elected to the episcopacy in 2016 from the North Carolina Conference and will be our episcopal leader from September 1, 2021, through December 31, 2022. He remains assigned to the Kentucky and Red Bird Conferences while providing episcopal coverage for the NC Conference.

Bishop Fairley graduated from Pfeiffer College and Duke University's School of Divinity. He served the Sanford Circuit twice (1984-88 and 1992-97). He also served St. Peters UMC in Hamlet and Soapstone UMC in Raleigh before becoming the Rockingham district superintendent. He served in that role for seven years before returning to the local church in 2012 as lead pastor at Saint Francis UMC in Cary. He served as the Capital district superintendent from 2015 until he was elected to the episcopacy.

Bishop Fairley has served on numerous boards and agencies in the North Carolina conference, including:

Conference Vitalization Consultant
Chair of Congregational Development
Task Force on Lay Academy
Vice-Chair of Conference Finance & Administration
Vice-Chair of Conference Board of Church and Society
North Carolina Conference Transition Team|
Conference Board of Ordained Ministry
North Carolina Conference Episcopacy Committee
General and Jurisdictional Conference Delegate

He has participated in mission work teams in Costa Rica, Jamaica, Montserrat, Zimbabwe, Haiti, Honduras, Serbia, and with the Appalachia Service Project.

Bishop Fairley has published a book of poetry, "Who Shall Hear My Voice." He also was a contributing writer to "The Day the Earth Moved Haiti: From Havoc to Healing."

He was married to his lifelong soul mate, Priscilla Ann Russell, until her death in 2013. In January 2018, God answered a prayer for new love, and in September of that year, Bishop Fairley married Dawn Sparks. Dawn had lost her soulmate, David, to cancer in 2015.

He has two adult children, Joshua Fairley and Elizabeth Galbreath as well as four grandchildren. Dawn has two adult children, Luke Sparks and Megan Bracken, as well as three grandchildren.