Pilgrimage 2022 — a worship-filled weekend event with amazing speakers, great youth leadership, and inspirational spiritual gifts – took place during the second weekend in November 2022.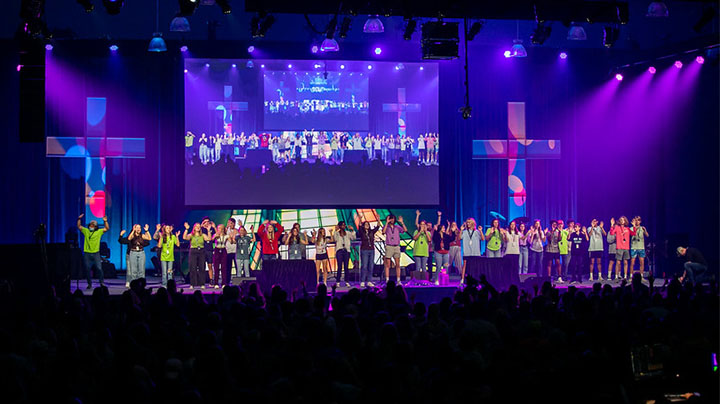 While most of the 1,910 attendees joined in person at the Rocky Mount Event Center, several groups opted to join virtually. Sessions were held on Friday night, Saturday morning, Saturday afternoon, and Sunday morning. The Saturday afternoon recess offered opportunities to serve through Rise Against Hunger, enjoy some time outside at Camp Fun Day, or support local ministry by purchasing hot dogs from First UMC in Rocky Mount.
Gail Martin and Rev. Sarah Heath served as speakers for Pilgrimage 2022. Gail Martin, a Conference youth alumni and former Conference youth president, shared the message on Friday evening. Rev. Heath, a speaker in 2017, returned to the Pilgrimage stage to share the message on Saturday morning, Saturday night, and Sunday morning.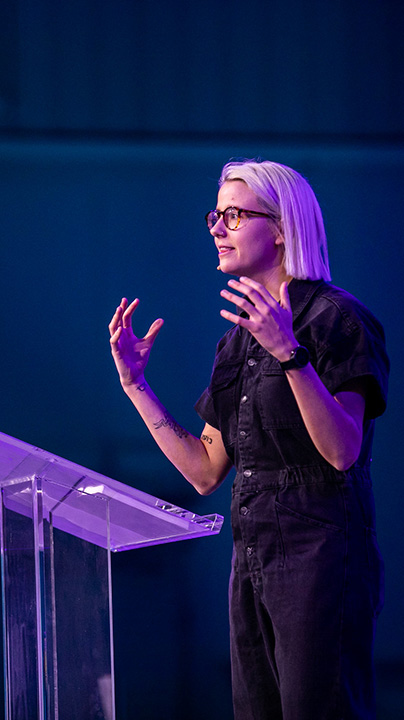 One of the best parts of Pilgrimage is the youth-led traditions. Some highlights:
Youth led us in worship with spiritual gifts of song and dance.
Youth played and sang in the House Band.
Youth shared their faith stories.
Youth read scripture and led prayers, both in multiple languages.
Saturday morning's session was an opportunity to engage in "Christian calisthenics," while Saturday night, members of our youth leadership team led attendees in the rainstorm.
The Banner Processional opened the Sunday morning worship service, showcasing creativity from across our Conference with banners representing each church in attendance.
Holy Communion connected all attendees in remembrance of the love of Christ and their shared community. Rev. Sarah Heath and Rev. Dr. Gray Southern presided at the table, and youth from across the Conference were our servers throughout the worship space.
The Pilgrimage community raised $3681.79 for the Youth Service Fund (YSF).
In March, we will announce the speakers for 2023, and applications for the Pilgrimage House Band and other participation opportunities will be available. Visit the Pilgrimage website for all the information on participation and registration. We'll see you in Rocky Mount in November!
About Pilgrimage
Pilgrimage is a youth event sponsored by the NC Conference, held annually in November. Pilgrimage 2023 will be the 30th anniversary of the event. Find out more about Youth Ministry and our events at nccumc.org/youth.
*Article written by Catherine Stallsmith, Pilgrimage Team