April is the time to celebrate Earth Day, Spring, and God's creation. Get your congregation excited about caring for creation with these upcoming gatherings, churchwide initiatives, group study resources, worship resources, and youth and children's curricula from the NC Conference Creation Care Team and the NC Conference Media Center.
Upcoming Gatherings
Online Book Club
Join the NC Conference Creation Care Team at monthly online book discussions. The next meeting is April 24th at 10:30 am, when they will be discussing A World Without Soil: The Past, Present, and Precarious Future of the Earth Beneath Our Feet by Jo Handelsman. Richard Loeppert, a soil scientist, will lead the conversation.
Stay updated on these monthly discussions by joining the NC Conference Creation Care Facebook group.
Redeeming Creation Conference
Redeeming Creation is a day-long seminar for Christians from all walks of life to come together, deepen their faith, and renew their commitment to caring for God's creation. This year's Redeeming Creation is the first in-person version of the event. It will be at First UMC in Cary on May 6th, 9:00 am-4:00 pm.
This year this focus is on what God is doing in and for creation right here in North Carolina, so the presenters will be sharing from their own experiences. Speakers include:
Bishop Hope Morgan Ward, leading a Bible study
Avery Davis Lamb, co-director of Creation Justice Ministries, speaking on making creation care a priority in your community
Josie Walker, formerly of FaithLands and the Black Church Food Security Network, presenting on community gardening and resilience
Rev. Jonathon Brake of the General Board of Global Ministries, sharing his creation care missions experiences
Carolyn Winters of St. Ambrose Episcopal Church (Raleigh) to speak about her work for environmental and community justice
In addition to these speakers, there will be ample opportunity to network with others who are ministering in creation care, and to share what God has inspired in you.
Churchwide Initiatives
Green Your Church
The Creation Care Team provides the Green Church Initiative for local churches to use in becoming better caretakers of God's creation.
It begins with a document that outlines a variety of steps churches can take to improve their creation stewardship, covering subjects including water and energy consumption, waste production, education, food and agriculture, landscaping, and more. As a church, you will evaluate your green performance from the past year and commit to actions for improvement. Each improvement is awarded points; once your church acquires 90 points, you become a certified Green Church and will be recognized by the Conference.
Take an Eco-Survey of Your Church
Young People's Ministries invites the youth of your church to undertake an eco-survey of your church building. They also offer a resource on starting the conversation about creation care in your youth group.
Worship Service & Study Videos
The NC Conference Creation Care Team created an online worship service that you can use for your church at any time. Additionally, they offer a series of archived webinars great for group discussion or individual study. Find these videos on the NC Conference Vimeo page.
Green Church Resources
Borrow these books from the NC Conference Media Center to get all ages involved with helping your church become a green church!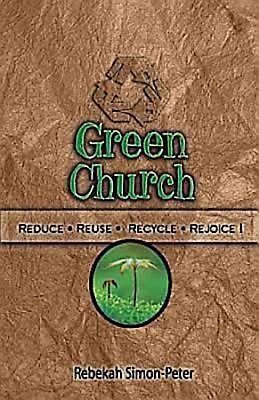 Green Church: Reduce, Reuse, Recycle, Rejoice! by Rebekah Simon-Peter. Citing Scripture and science, Rebekah Simon-Peter weaves in personal stories of Sabbath, gardening, recycling, camping, and the power of faith. She challenges us to consider our role in the care of Creation and to help save the earth for future generations.
7 Simple Steps to Green Your Church by Rebekah Simon-Peter. This little handbook takes you, step by step, through the process of making your church more environmentally friendly. Areas of focus include: The Resurrected Life: Recycling, Let There Be Light: Lighting, Praise the Lord: Worship, Jesus Saves: Electricity and Energy Efficiency, To Everything There is a Season: Heating and Cooling, The Wells of Salvation: Water, Train Up a Child: Christian Education, What Would Jesus Drive: Vehicles and Travel, Bread of Life: The Kitchen, Gifts of Administration: The Office, Go and Do Likewise: Missions, The Gardener of Eden: Grounds.
Burst: Green Church by Tim Gossett. This 6-week program for youth groups will show Christian teens how caring for the earth is a way to honor God and show love for our neighbors. It takes the usual "three Rs" of conservation – reduce, reuse, and recycle – and adds three more – reclaim, repent, and rejoice. This structure is based on the work of Rev. Rebekah Simon-Peter, the author of 7 Simple Steps to Green Your Church, who is an environmental scientist/naturalist-turned-UM elder and who has traveled the country helping congregations go green.
Green Church: Caretakers of God's Creation by Daphna Flegal and Suzann Wade. This 6-session curriculum will help children experience what it means to be good stewards of God's Creation. Each lesson includes introductory activities that children will select based on their interests, a large group time where the children will come together to hear and interact with the Bible Story, and a small group time where the children will discuss ways to take action for God's creation.
Group Study Resources
The NC Conference Media Center recommends the following DVDs and books to study with adult small groups. These resources can be borrowed by anyone involved with a United Methodist Church in the NC Conference. We will mail them to your home! All you need to do is fill out the Resource Request Form.
Small Group Studies
Wake Up World: Hope Through Understanding by Robert and Anita Dygert-Gearheart. This 6-session curriculum is an ecumenical tool for the education and motivation of adult laity of faith groups, including green teams. Use it as an opportunity to bring your group together, move members to a common understanding, and motivate meaningful action. It is written by United Methodist EarthKeepers and incorporates the UM Social Principles.
Serving God, Saving the Planet: A Call to Care for Creation and Your Soul by Matthew Sleeth. This 12-session study provides simple, everyday ways to focus on stewardship and sustainability according to Scripture. It broadens the conversation with an emphasis on the dangers of materialism, workaholism, and spiritual bankruptcy—as well as God's endless invitations for us to enjoy what He has created. There are a DVD, guidebook, and original book available for this study.
Nature: Our First Way Of Knowing God by Beth Norcross. This seven-week study is meant to awaken this visceral knowing of the Creator through the creation, reconnect us with the sacred landscapes we call home, encourage us to provide space and time for spiritual reflection in nature, and to live in greater harmony with God's Earth. It can only be purchased and downloaded from the Lewis Center for Church Leadership.
Organic Wesley: A Christian Perspective on Food, Farming, and Faith by William C. Guerrant, Jr. This 10-session study examines the intersection of the teachings of John Wesley with the ethics of the contemporary food movement. Wesley and his followers recognized the importance of nutritious diets, moderation in consumption, the humane treatment of animals, and the ethics of food choices in ways that may be surprising to Christians today. This study can use just the book or include the accompanying DVD.
A Hopeful Earth: Faith, Science, and the Message of Jesus by Sally Dyck and Sarah Ehrman. This 6-session book study draws together the Christian faith of United Methodist Bishop Sally Dyck and the scientific world of her niece, Sarah Ehrman, to address the climate crisis. The study will bridge the gap between Jesus and the environment and guide readers in understanding that living as good stewards of God's creation is a significant component of what it means to follow Jesus. A leader's guide for this book is also available.
Climate Justice: A Call to Hope and Action edited by Pat Watkins. This 8-session study produced by United Methodist Women is not just for women's groups. It will challenge you to see what needs to happen for climate justice to become a reality in the world today. This will entail not just focusing on the environment, but also asking hard questions regarding financial profit, a growing economy, our independent way of thinking, and our understanding of efficiency. This study uses a book and can include viewing of an accompanying DVD documentary.
Books for Discussion
Refugia Faith: Seeking Hidden Shelters, Ordinary Wonders, and the Healing of the Earth by Debra Rienstra. This book explores how Christian spirituality and practice must adapt to prepare for life on a climate-altered planet. By weaving nature writing, personal narrative, and theological reflection, Rienstra grapples honestly with her own fears and longings and points toward a way forward–a way to transform Christian spirituality and practice, become a healer on a damaged earth, and inspire others to do the same.
Drawdown: The Most Comprehensive Plan Ever Proposed to Reverse Global Warming edited by Paul Hawken. An international coalition of researchers, professionals, and scientists have come together to offer a set of realistic and bold solutions to climate change. One hundred techniques and practices are described here—some are well known; some you may have never heard of. The Creation Care Team hosted a webinar on this book that can supplement your discussion.
Watershed Discipleship: Reinhabiting Bioregional Faith and Practice edited by Ched Myers. This collection introduces and explores "watershed discipleship" as a critical, contextual, and constructive approach to ecological theology and practice, and features emerging voices from a generation that has grown up under the shadow of climate catastrophe. Watershed Discipleship is a "triple entendre" that recognizes we are in a watershed historical moment of crisis, focuses on our intrinsically bioregional locus as followers of Jesus, and urges us to become disciples of our watersheds.
Reforesting Faith: What Trees Teach Us About the Nature of God and His Love for Us by Matthew Sleeth. The Bible talks about trees more than any living creation other than people. In this groundbreaking walk through Scripture, former physician and carpenter Dr. Matthew Sleeth makes the convincing case of why trees are essential to every Christian's understanding of God.
Worship Resources
Coming Soon! Good Stewards Together: Twelve Intergenerational Summer Events from Sparkhouse. Bring your entire congregation together this summer for intergenerational events about stewardship. Participants build relationships and have fun together while exploring the many ways we are called to be good stewards by using our gifts and talents to care for God's creation, including each other, the church, and the world. Choose from 10 events around the themes of Spirit, the Bible, Discipleship, Church, and World. A great alternative to a traditional Vacation Bible School.
Nature's Final Curtain Call? Who Cares About Creation's Care? by S. T. Kimbrough, Jr. The poems in this book address some of the wonders of nature: the seasons, weather, flowers, creatures, and beautiful scenes of nature. In the final section, however, the question is raised as to whether these wonders will survive the devastating effects of climate change, global warming, and other threats to nature. Will humankind awaken to the need of caring for nature?
Landscape Liturgies: Resources to Celebrate and Bless the Earth by Nick Mayhew-Smith with Sarah Brush. This book contains prayers, rituals, blessings, and liturgies compiled from Anglican, Roman Catholic, Methodist, and Orthodox sources, as well as early church material, the desert tradition, and monastic spirituality. This fascinating and versatile resource will enable urban and rural churches and church schools, retreat houses, and pilgrimage centers to conduct a wide variety of services and meditations in the landscape around them. Landscape Liturgies is a co-publication with the Susanna Wesley Foundation.
Worship in the Garden by J. Wayne Pratt. From Easter sunrise services to church retreats, the special worship experiences described in this book can enhance one's experience of God as a congregation worships together outdoors. The beauty of creation enhances these sensitive, meaningful liturgies for Communion, Blessing of the Animals, Healing, Renewal of Wedding Vows, Resurrection/Memorial Services, Graveside, Baptism, Baptismal Reaffirmation, along with other services.
Earth Prayers: From Around the World: 365 Prayers, Poems, and Invocations for Honoring the Earth edited by Elizabeth Roberts & Elias Amidon. These prayers and devotions include writings about the Earth from Walt Whitman, T.S. Eliot, Margaret Atwood, Robert Frost, Annie Besant, and many others.
For Youth & Children
Joining Voices for Climate Justice: A Study for Youth by Jay Godfrey and God's Extravagant Garden: A Children's Study on Climate Justice by Pat Hoerth. These 4-session studies from United Methodist Women are companions to the adult study, Climate Justice, listed above. The youth study will encourage youth to interact with the voices in each session to deepen their understanding of climate change through perspectives from around the world. In the children's study, children are encouraged to learn more about God's creation through experiencing it first-hand during each of the sessions.
It Is Easy Being Green! 60 Bible Stories & Crafts With the Earth in Mind by LeeDell Stickler. This book features sixty exciting craft projects that children will enjoy making while learning about the Bible and building their faith. Simple "green" crafts accompany a related Bible story. Teachers will enjoy clear, step-by-step instructions, along with a materials list featuring green or recycled products.
Additional Resources
View a complete list of resources that you can borrow from the NC Conference Media Center that are related to creation care. Stay up-to-date on NC Conference events and initiatives at our Creation Care website.
Request These Resources
These resources can be borrowed for free by anyone involved with a United Methodist Church in the North Carolina Conference. We will mail them to your home! All you need to do is fill out the Resource Request Form.
Featured image of the Cape Fear River by Rich Brents on Unsplash