The #BeUMC campaign reminds us of who we are at our best — the spirit-filled, resilient, connected, missional, faithful, diverse, deeply rooted, committed, disciple-making, Jesus-seeking, generous, justice-seeking, world-changing people of God called The United Methodist Church.
United Methodists strive to make the world a better place for all people.
We recommend the following small-group studies, books, and curricula for adults, youth, and children about how United Methodists are changing the world.
Small Group Studies
Make a Difference: Following Your Passion and Finding Your Place to Serve by James A. Harnish. This DVD study draws upon biblical wisdom to provide practical guidance to help disciples connect their passion with the world's great need. Real stories of how real people found their place to serve will inspire and encourage you to do the same.
Change the World: Recovering the Message and Mission of Jesus by Mike Slaughter. Linking Bible study to global mission and local service projects, this six-session DVD study enables congregations to discuss and act on the imperatives of scripture. Each week, participants will read and discuss a gospel story, watch a video profiling an inspiring, world-changing mission effort, and envision together how they can change the world locally and globally. There is another version of this study for leadership teams.
FastPrayGive Small Group Study: Ending Hunger By The Means of Grace by Andy Morris. The World Methodist Council passed a resolution in 2011 calling the people known as Methodist to Fast one meal per week, Pray during that time for world hunger, and Give to those in need. This became a global initiative of the World Fellowship of Methodist and Uniting Church Men and as a result, launched FastPrayGive.org. This small group study is a resource to aid you in joining this grassroots discipleship movement.
Methodist Identity: Our Story hosted by Justo González. In this DVD study, speakers describe the 18th-century Wesleyan revival in England and the growth of Methodism in the United States and around the world. Supplemental videos cover in more detail the rise of Methodism in Europe, Asia, Africa, and Latin America.
Methodists in Mission around the World
Methodist Mission at 200: Serving Faithfully Amid the Tensions edited by Thomas Kemper & David Scott. For more than 200 years, millions of Methodists have shared God's love with the world. Baked into the theological purpose of our mission is the compassion and resolve to relieve human suffering by offering healing, hope, and holiness everywhere in the world. This book tells the story of these global efforts.
The Passionate Church: Ignite Your Church and Change the World by Mike Slaughter. In 2008, the United Methodist Church lifted up "Four Areas of Focus" for ministry, and churches have responded. But at Ginghamsburg Church, in the rust-belt town of Tipp City, Ohio, the church has been doing exciting and effective ministry in those four areas for 35 years and more. This work has spread throughout the U.S. and the world.
Faithful Witnesses: United Methodist Theology of Mission by John Edward Nuessle. This study document connects the United Methodist Theological Task from The Book of Discipline with the current mission program goals of the denomination's mission agency. By using this study process, church groups are encouraged to define and articulate their own mission theology.
Specific Methodist Missions around the World
From Relief to Empowerment: How Your Church Can Cultivate Sustainable Mission by Laceye and Gaston Warner. Mission flourishes when relationships are characterized by mutuality–a difficult, but important, balance to sustain. This book looks at ZOE, a Christian non-profit and United Methodist advanced special, as an exemplar of sustainable mission that can empower even the most vulnerable to help themselves.
You Raise Me Up: Making It Happen for Children of the Ark by Catherine Ritch. Where other humanitarian agencies are not allowed due to political issues, two conferences of The United Methodist Church–the North Carolina Conference and the Western North Carolina Conference–have answered a call and have broken those barriers through organizing and supporting Project AGAPE, that area's ONLY humanitarian aid agency, thereby "Making It Happen for Children of the Ark."
A History of The United Methodist Church in Liberia by Levi C. Williams. Rev. Dr. Levi Williams described the motivating factors that prompted the Methodist mission to Liberia and Africa, discussed the sacrifices of the early missionaries and other significant persons who contributed to this mission; he also explored current as well as future possibilities.
Living Beyond the Dream: Africa University Fund by United Methodist Communications. Through this DVD, you have the opportunity to visit the Africa University campus in Zimbabwe and hear graduates share how the United Methodist-supported University has prepared them to help transform the continent of Africa.
For Youth & Children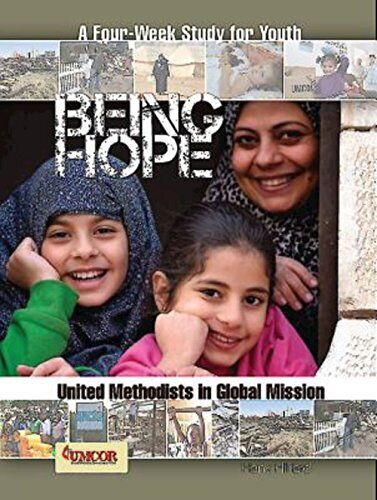 Being Hope: United Methodists in Global Mission: A Four-Week Study for Youth by Hank Hilliard. Each session of this study explores the biblical and Wesleyan foundations for our work as a denomination in the areas of disaster relief, global health, and global development, as well as the role we play in our churches' mission efforts close to home. This resource will equip participants to become catalysts of change for their communities and involve younger generations in the important work The United Methodist Church is doing to alleviate suffering in 81 countries around the world. A children's version is also available.
Hugging the World: Faith, Hope, Love in Action by Jodi L. Cataldo. This UMW Mission Study takes children on a hot air balloon journey around the globe to explore God's mission in various countries and cultures. Intended for children in grades K-6, this resource teaches children — in a fun and interactive way — about our world, its diversity, and God's mission within it. A youth version of this study is also available.
Kids on Mission by Ginghamsburg Church. CrossTrainer, a DVD-based program, provides a solid path for faith and discipleship in children ages 8-11. CrossTrainer is easy to teach and filled with fun, flexible lessons. Kids on Mission teaches children about the value of serving others through Christ-centered activities including prayer, time, work, gifts, and money.
Raising Children to Love Their Neighbors: Practical Resources for Congregations by Carolyn C. Brown. Here are practical plans with reproducible activities and outlines for classroom and service experiences for children ages 3 to 12. Carolyn Brown offers great "how to" plans that churches can build into their current programs. She includes a hands-on enrichment curriculum, over a year of monthly service projects for preschoolers, and mini-workshops for teachers.
Request These Resources
These resources can be borrowed for free by anyone involved with a United Methodist Church in the North Carolina Conference. We will mail them to your home! All you need to do is fill out the Resource Request Form.