Does your small group take a break during the summer? What if you changed to a book club format and met less often to discuss a book you had all read? If you are meeting on Zoom, a book club format works great for lively discussion.
In a book club, participants decide on a book to read and then meet together at one chosen time to discuss the book after they have finished reading it. The discussion is more informal allowing participants to focus on their own personal engagement with the book while learning from the similarities and differences in others' experiences.
The NC Conference Media Center recommends the following books in our collection as good selections for a book club format – whether you have an ongoing book club or want to try doing a book club with your small group over the summer. We have books on current issues, that are inspirational, memoirs, that are for women (but not only for women), and some books that bring a little fun to your group.
Current Issues
Give your group the opportunity to respond to current events in our world through the lens of these books.
Becoming All Things: How Small Changes Lead to Lasting Connections Across Cultures by Michelle Ami Reyes. Michelle Reyes offers a poignant discussion on the challenges surrounding cross-cultural relationships in America today, including the reasons for cultural difference, stereotyping, appropriation, gentrification, racism, and more. With language that's witty, funny, and accessible, Reyes offers hope for majority and minority alike by showing what's possible when all of us are willing to try something new.
God and the Pandemic: A Christian Reflection on the Coronavirus and Its Aftermath by N. T. Wright. Discover a different way of seeing and responding to the Coronavirus pandemic, an approach drawing on Scripture, Christian history, and the way of living, thinking, and praying revealed to us by Jesus. Written by one of the world's foremost New Testament scholars, God and the Pandemic will serve as your guide to read the events of today through the light of Jesus' death and resurrection. Another good book along these same lines is Virus as a Summons to Faith: Biblical Reflections in a Time of Loss, Grief, and Uncertainty by Walter Brueggemann.
Building Resilience: When There's No Going Back to the Way Things Were by Alice Updike Scannell. How do we develop the resilience that empowers us to be ourselves in the face of change? Building Resilience offers a path toward creativity in responding to change in your life, regaining some control over your circumstances, and overcoming feelings of helplessness.
Black & White: Disrupting Racism One Friendship at a Time by Teesha Hadra and John Hambrick. Authors Teesha Hadra, a young African American woman, and John Hambrick, a 60-year-old white man help us see the various and often subtle ways racism continues to be a part of American culture, but then, using their story of friendship as an example, we learn how racism can be disrupted when we risk forging friendships with those who do not look like us.
The God Who Sees: Immigrants, the Bible, and the Journey to Belong by Karen González. Karen González recounts her family's migration from the instability of Guatemala to making a new life in Los Angeles and the suburbs of south Florida. In the midst of language barriers, cultural misunderstandings, and the tremendous pressure to assimilate, González encounters Christ through a campus ministry program and begins to follow him. Here, too, is the sweeping epic of immigrants and refugees in Scripture. Abraham, Hagar, Joseph, Ruth: these intrepid heroes of the faith cross borders and seek refuge.
The Lemon Tree: An Arab, a Jew, and the Heart of the Middle East by Sandy Tolan. In 1967, Bashir Khairi, a twenty-five-year-old Palestinian, journeyed to Israel with the goal of seeing the beloved stone house with the lemon tree behind it that he and his family had fled nineteen years earlier. To his surprise, when he found the house he was greeted by Dalia Eshkenazi Landau, a nineteen-year-old Israeli college student, whose family fled Europe for Israel following the Holocaust. On the stoop of their shared home, Dalia and Bashir began a rare friendship, forged in the aftermath of war and tested over the next half century in ways that neither could imagine on that summer day in 1967.
Inspirational
Get ready to be inspired by these books that present new ways of thinking about our faith.
The Gospel for the Person Who Has Everything by Will Willimon. Bishop William Willimon brings the Gospel of Jesus Christ to life for the person who has everything – happy, fulfilled human beings, who don't feel the same level of need expressed by the downcast, the outcast, the brokenhearted, and the miserable. Willimon says that the church's message to the wretched and sad must not exclude the strong and the joyous.
Ladder to the Light: An Indigenous Elder's Meditations on Hope and Courage by Steven Charleston. Choctaw elder and Episcopal priest Steven Charleston offers words of hard-won hope, rooted in daily conversations with the Spirit and steeped in indigenous wisdom. Every day Charleston spends time in prayer. Every day he writes down what he hears from the Spirit. In Ladder to the Light he shares what he has heard with the rest of us and adds thoughtful reflection to help guide us to the light.
Reforesting Faith: What Trees Teach Us About the Nature of God and His Love for Us by Matthew Sleeth. The Bible talks about trees more than any living creation other than people. In this groundbreaking walk through Scripture, former physician and carpenter Dr. Matthew Sleeth makes the convincing case why trees are essential to every Christian's understanding of God.
Inspired: Slaying Giants, Walking on Water, and Loving the Bible Again by Rachel Held Evans. Drawing on the best in recent scholarship and using her well-honed literary expertise, Evans examines some of our favorite Bible stories and possible interpretations, retelling them through memoir, original poetry, short stories, soliloquies, and even a short screenplay. Undaunted by the Bible's most difficult passages, Evans wrestles through the process of doubting, imagining, and debating Scripture's mysteries.
Spoken Into Being: Divine Encounters Through Story by Michael E. Williams. In this book on storytelling as spiritual exploration, Williams shares stories from his life and offers practical prompts that guide us to tell our own stories. He reminds us that we have been spoken into being as part of a much larger story. Using poetry, personal narrative, and retellings of biblical stories, Williams leads us to a deeper knowledge of the power of narrative.
Punching Holes in the Dark: Living in the Light of the World by Robert Benson. Sometimes we cannot see much evidence of the Kingdom that is already here. How do we find it, not lose sight of it, and even share its message of hope with others in the darkness? Discover strength in the gifts of the Spirit and start punching holes, my friends – as hard as we can, as often as we can; and let the Light of the world sneak in.
Memoir
Memoirs read like a novel, but they are true stories that help us understand and empathize with one another.
How Cancer Cured Me: Healing Brokenness and Disease by David Gira. NC Conference Pastor David Gira shares fifteen ways God used his cancer experience, with all its challenges, to heal his life including ultimately providing physical healing. The topics range from becoming more courageous to finding his get-up-and-go. With refreshing honesty and humor, David tells his cancer story, shares inspiring stories of other cancer patients, and reflects on relevant Scripture. View our interview with the author.
Native: Identity, Belonging, and Rediscovering God by Kaitlin B. Curtice. As both a citizen of the Potawatomi Nation and a Christian, Kaitlin Curtice offers a unique perspective on these topics. She draws on her personal journey, poetry, imagery, and stories of the Potawatomi people to address themes at the forefront of today's discussions of faith and culture in a positive and constructive way.
On Pills and Needles: The Relentless Fight to Save My Son from Opioid Addiction by Rick Van Warner. When Rick Van Warner found himself searching abandoned buildings for his missing son, he had no idea that the synthetic, pill-form heroin that had snared his teen was already killing so many. On Pills and Needles is one family's story, but it is also a wake-up call and crash course in opioid addiction.
Costly Grace: An Evangelical Minister's Rediscovery of Faith, Hope and Love by Rob Schenck. The author recalls his life as a controversial Washington, D.C. evangelical minister and spiritual advisor to America's political class. He reflects on his unconscious abandonment of Christian principles in the face of fame and influence, and ultimately his return to the lessons Jesus imparted.
All the Colors We Will See: Reflections on Barriers, Brokenness, and Finding Our Way by Patrice Gopo. Patrice Gopo grew up in Anchorage, Alaska, the child of Jamaican immigrants who had little experience being black in America. From her white Sunday school classes as a child, to her early days of marriage in South Africa, to a new home in North Carolina with a husband from another land, Patrice's life is a testament to the challenges and beauty of the world we each live in, a world in which cultures overlap every day.
Tattoos on the Heart: The Power of Boundless Compassion by Gregory Boyle. Father Boyle started Homeboy Industries nearly 20 years ago, which has served members of more than half of the gangs in Los Angeles. This collection presents parables about kinship and the sacredness of life drawn from Boyle's years of working with gangs.
For Women (but not only for women)
These books about and for women also invite mixed-gender groups to learn about issues that affect women in current and historical times.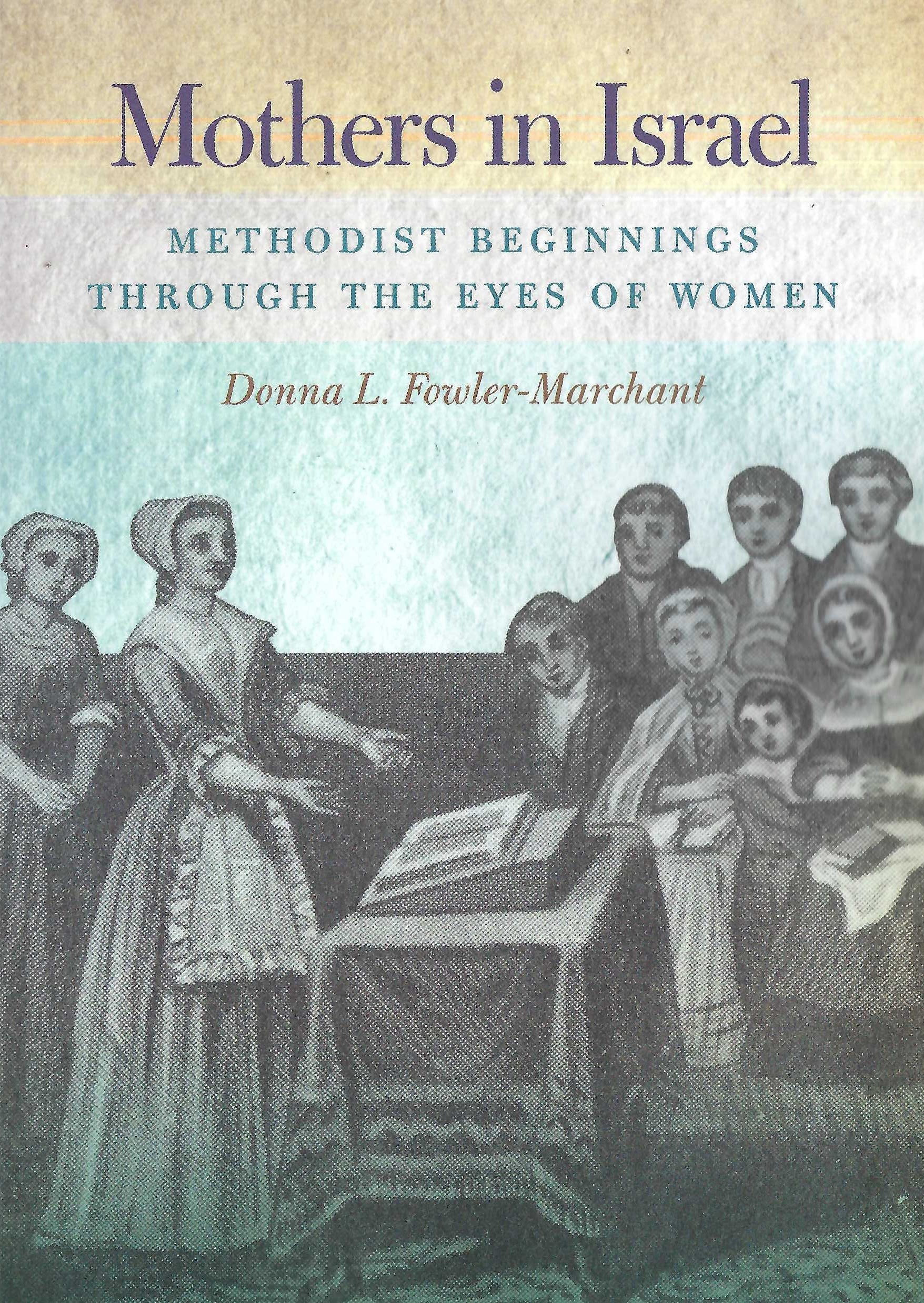 Mothers in Israel: Methodist Beginnings Through the Eyes of Women by Donna L. Fowler-Marchant. Women have played an integral part in Methodism from the beginning, but many of the stories of early English Methodist women preachers and leaders have been forgotten or distorted. NC Conference Pastor Donna L. Fowler-Marchant exposes the richness of their legacy of faithful witness through this exploration of their own theological writings and reflections and their message for the Church today. View this recorded webinar with the author.
Nevertheless: American Methodists and Women's Rights by Ashley Boggan Dreff. This book tells the story of American Methodist women's efforts fight for women's rights, beginning with the Women's Christian Temperance Union and ending with the #MeToo movement. As women engaged in mission, they sought to not simply fix social ills but to prevent them from happening again.
Women Rise Up: Sacred Stories of Resistance for Today's Revolution by Katey Zeh. In this timely take on the tenacious women of the bible, Katey Zeh brings an activist sensibility to her reading of biblical stories—like Rachel's maternal mortality or Martha's domestic advocacy—to inspire modern women and their allies to rise up in the face of injustices near and far.
Laughing at the Devil: Seeing the World with Julian of Norwich by Amy Laura Hall. In this impassioned, analytic, and irreverent book, Amy Laura Hall emphasizes Julian's call to scorn the Devil. Laughing at the Devil describes how a courageous woman transformed a setting of dread into hope, solidarity, and resistance.
Of Mess and Moxie: Wrangling Delight Out of This Wild and Glorious Life by Jen Hatmaker. Christian blogger Jen Hatmaker parlays her own triumphs and tragedies into a sigh of relief for all normal, fierce women everywhere. She offers a reminder to those of us who sometimes hide in the car eating crackers that we do have the moxie to get back up and get back out.
Unsqueezed: Springing Free from Skinny Jeans, Nose Jobs, Highlights and Stilettos by Margot Starbuck. In twenty-seven brief, funny and reflective chapters Margot Starbuck helps us discover why God really gave us bodies and what we can do with them to serve him and others. Jump out of that suffocating mold and discover what your body is really for.
Have some fun!
These novels, essays, and a comic book match the summer mood with humor and good stories.
The Epicenter by Jim Martin. Two very different men on two very different faith journeys of doubt, fear, and conflict converge on a path of hope, friendship, and new life neither expected; a path that will change not only their lives but the entire town of Myers Valley. Jim Martin is the Director of Rockfish Camp and Retreat Center.
What Would Granny Say? And Other Somewhat Embellished Memories by Tony Rowell. From fishing with his granny in the Florida Panhandle to stumbling into boars and bear alike in the Carolina wilderness to ministry in Bolivia, Colombia and Latvia, Rowell weaves beauty with simplicity and good old-fashioned humor. His photographs of both nature and people are peppered throughout, along with a healthy dose of Granny's wisdom.
Submitting to Be More Vile: The Illustrated Adventures of John & Charles Wesley by Charlie Baber. To say Charlie Baber teaches Wesleyan theology, history, and practice unlike anyone else is an understatement. Those new to the Wesleyan tradition will find Baber's style easily accessible and those who have a strong United Methodist background will find themselves chuckling at his unique approach.
Chasing Francis: A Pilgrim's Tale by Ian Morgan Cron. Pastor Chase Falson has lost his faith in God, the Bible, evangelical Christianity, and his super-sized megachurch. Join Chase on his life-changing journey to Italy where, with a curious group of Franciscan friars, he struggles to resolve his crisis of faith by retracing the footsteps of Francis of Assisi, a saint whose simple way of loving Jesus changed the history of the world.
Thin Blue Smoke by Doug Worgul. LaVerne Williams is a reformed felon, ex-ballplayer, and owner of Kansas City's best barbecue joint. Ferguson Glen is an Episcopal priest, faded literary star, and a lover of God, women, and liquor—but not necessarily in that order. An epic redemption tale and the story of two men coming to terms with their pasts, this is also a funny and soulful novel about faith, race, storytelling, bourbon, the language of rabbits, and the finer points of barbecue technique.
The Parables of Dr. Seuss by Robert L. Short. This breezy and engaging book will delight the Dr. Seuss fan in all of us. Robert Short looks at spirituality in the stories of children's book author and illustrator Theodore "Dr. Seuss" Geisel, arguing that Geisel was "a first-class Christian thinker."
Request These Resources
These resources can be borrowed for free by anyone involved with a United Methodist Church in the North Carolina Conference. We will mail them to your home! All you need to do is fill out the Resource Request Form.
Image by Ylanite Koppens from Pixabay