February is Black History Month. The Media Center has books and DVDs for adults and children related to black history in the United Methodist Church and in our larger culture. Engaging with these resources helps us to understand more about where we came from and what work there is still to do to improve our connection.
Request These Resources
You may borrow any of these resources for use at your church or at home. We can mail them to you! Simply fill out the Resource Request Form, or contact the Media Center with any questions. The NC Conference Media Center is open to anyone involved with the North Carolina Conference of The United Methodist Church, free of charge.
Devotional
DVDs
We've Come This Far By Faith: A History of Black Methodism in the Southeastern Jurisdiction
A 30-minute documentary from the African American Methodist Heritage Center that tells the history of Black Methodism in our jurisdiction.
Black Methodism: Legacy of Faith Revival
This 30-minute documentary focuses on several related and pivotal events in the life and history of the Methodist church: the end of the racially segregated Central Jurisdiction in 1967; the founding of Black Methodists for Church Renewal in 1967; the birth through merger of The United Methodist Church in 1968; and the establishment of the General Commission on Religion and Race in 1968.
Blood Done Sign My Name
This 2-hour film brings to life the book of the same name by Timothy B. Tyson, son of Rev. Vernon Tyson. They tell the true story of a racially-motivated murder in Oxford, NC and the efforts of Rev. Tyson and a local teacher to seek justice for this crime.
Briars in the Cottonpatch: The Story of Koinonia Farm
This hour-long movie tells the nearly forgotten story of Koinonia Farm, a small Christian community in Southwest Georgia where whites and blacks chose to live and work together as equals despite the brutal and frightening consequences.
Lenten Studies
Lent begins on February 17th. Use one of these studies to experience Lent through the lens of African American spirituals.
Reflect Reclaim Rejoice: Preserving the Gift of Black Sacred Music
This study uses a companion DVD and is divided into three sections, "Ring Shout, Prayer Band", "Negro Spirituals", and "Long-Metered." This small-group study is part of the Africana Hymnal Project of The United Methodist Church.
Plenty Good Room: A Lenten Bible Study Based on African American Spirituals
This book study combines an in-depth look at Scripture, American history, and the music and lyrics of six African American spirituals. The six-session study provides biblical, social, and historical analyses of the spirituals: 'Ev'ry Time I Feel the Spirit," "This Lonesome Valley," "Bow Down on Your Knees," "Plenty Good Room," "Ain't Dat Good News," and "Were You There?"
On Ma Journey Now: A Lenten Study Based on African-American Spirituals
This six-session book study has an accompanying CD with recordings of "I Want Jesus to Walk With Me," "Jesus Walked This Lonesome Valley," "A City Called Heaven," "Po' Mou'ner's Got a Home at Last," "I Couldn't Hear Nobody Pray," "On Ma Journey Now, Mt. Zine (Zion)," and "Were You There?"
From Preparation to Passion: Devotional and Reflective Meditations Celebrating the Lenten Season Based on the Lectionary and Celebrated African American Sacred Songs and Hymnody
This devotional book includes meditations highlighting sacred songs such as: "My Tribute," "God Is," "O Didn't It Rain," "I Love Thy Kingdom Lord," and more.
Books
Breaking Barriers: An African American Family & the Methodist Story
On July 19, 1984, Leontine Current Kelly was elected bishop of The United Methodist Church, making her the first African-American woman to become a bishop within a major American religious denomination. Breaking the Barriers recounts the story of her journey and that historic achievement.
Sojourner Truth: A Life, A Symbol
Eminent black historian Nell Irvin Painter goes beyond the myths, words, and photographs to uncover the life of a complex woman who was born into slavery and died a legend.
The Past Matters: A Chronology of African Americans in the United Methodist Church
A chronology of African Americans in the United Methodist Church compiled and with a forward written by Marilyn Magee Talbert.
Singing the Lord's Song in a Strange Land by Joseph E. Lowery
In this book are Dr. Lowery's most enduring speeches and messages from the past fifty years including Coretta Scott King's funeral and the benediction given at President Obama's inauguration. This book, however, is not simply a collection of words. It is the heart of a movement and a call to a new generation to carry the mantle–for all people.
The Preacher King: Martin Luther King, Jr. and the Word That Moved America
This book chronicles Martin Luther King, Jr.'s religious development from his childhood as a "preacher's kid" in segregated Atlanta to the most influential American orator of the twentieth century.
Children's Resources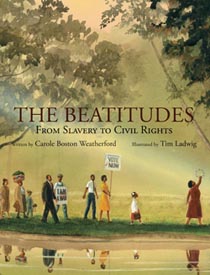 The Beatitudes: From Slavery to Civil Rights
This hardcover picture book for children ages 8 and up uses the Beatitudes as a backdrop for Carole Boston Weatherford's powerful free-verse poem that traces the African American journey from slavery to civil rights.
The Harriet Tubman Story
This animated 30-minute DVD from the Torchlighters series tells the story of Harriet Tubman for children ages 8-12.
God's Trombones: A Trilogy of African American Poems
This 30-minute claymation DVD animates three poems by James Weldon Johnson, "The Creation," "The Prodigal Son," and " Go Down Death."
More Resources
View our African American Resources and Anti-Racism pathfinders for additional resources that may be of use to you during Black History Month or any other time of the year.
United Methodist Communications is also offering free social media graphics to share during Black History Month.