While it is still safer not to meet in-person, here are some options for your small group to study together online. You could even start a new small group using these ideas.
Most of these ideas involve consuming the content individually and then meeting together virtually to discuss. You can go high tech and use video conferencing or group chats, or you could go low tech and set up a telephone conference call. United Methodist Communications offers tips and resources for each of these methods. They have also updated their online course on How to Start Small Groups with training for online groups.
Idea #1: View videos online and then discuss.
Several publishers are making some of their video studies free online for a limited time. Taking advantage of these offerings allows you to continue a video-based discussion if that is what your group is used to, or try something new!
Free Video Studies Online
Amplify Free Content
Amplify offers its archived webinars and some other videos for free. Showing these videos is as easy as sharing your screen in Zoom so you can all watch together, or you can watch the videos individually before the meeting. Currently, the topics include behind-the-scenes looks at small-group studies, mental health, division in the church, and more.
Vital Conversations
The General Commission on Religion and Race offers the excellent Vital Conversations video series. Across four series focusing on different themes, there are dozens of videos to spark conversation about the church, faith, and social issues. Each video includes a discussion guide to use during your online meeting. View a sample of these videos below: Church: Building the Beloved Community.
UMC Cyber Campus
Although the General Board of Higher Education and Ministry has discontinued UMC Cyber Campus, some of the videos they produced are still available on YouTube. Visit the UMC Cyber Campus YouTube channel to find the videos for the following courses:
Living the Questions
Living the Questions was started by two United Methodist pastors who created a curriculum for progressive Christians. They now offer several different studies along this line. One of these studies that we also have in the Media Center, Dream.Think.Be.Do., is being offered online for free during the COVID-19 isolation. The 20 sessions are a distillation of the original Living the Questions DVD material and insights from the book, Living the Questions: The Wisdom of Progressive Christianity. The video input and accompanying discussion questions provide an engaging catalyst for conversation among those who are searching for what's next for followers of Jesus.
Featuring nearly 30 contributors (including Spong, Borg, Crossan, Butler-Bass, Levine, Fox, and Brueggemann), the streaming videos are adaptable for groups utilizing online video-conferencing platforms. You'll find links to the downloadable Discussion Questions at dreamthinkbedo.com. The free Streaming Videos can be accessed at tinyurl.com/FreeDTBD. See a preview of the study in the video below.
Living Like They Believe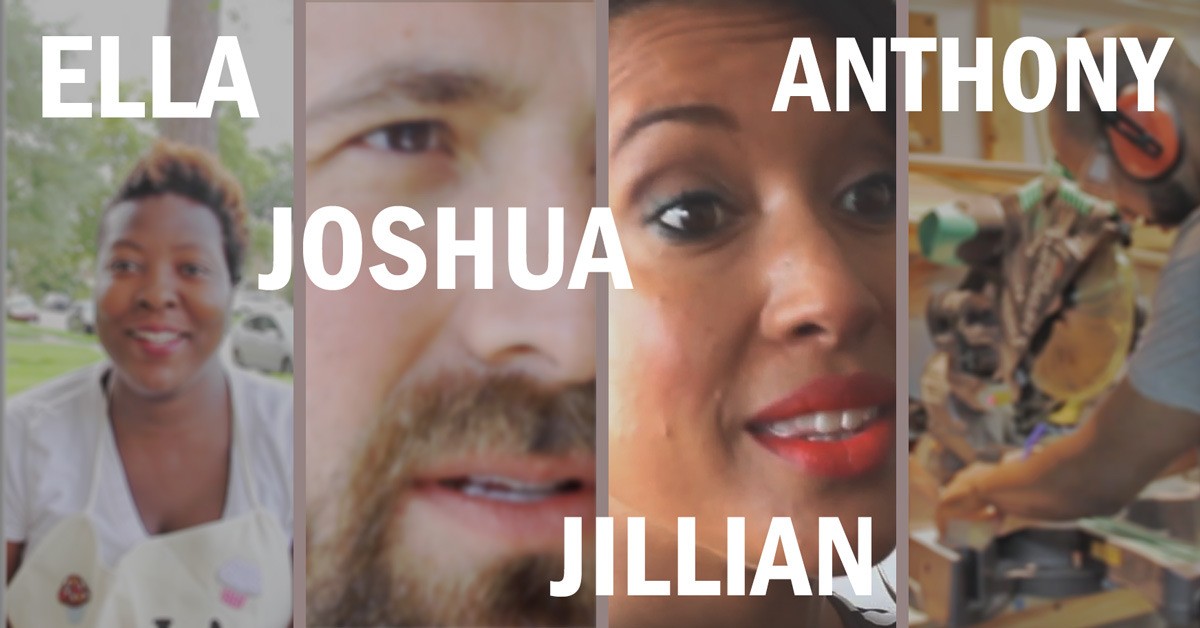 Leadership Education at Duke Divinity School created this online small-group curriculum in partnership with Duke Youth Academy for Christian Formation, but it is not only for youth. Living Like They Believe offers three four-session curriculum tracks that allow you to choose the thematic focus that best meets the need of your group of high school youth, college students or adults. Each session features one of the films, Scripture study, and creative practices for participants to do both as a group and on their own.
"Vocation" challenges groups to pay attention to how God calls us in ordinary and mundane ways and how we can live into the fullness of God's call.
"Divine innovation" leads groups to discover how God takes the old and makes it new in Scripture and in our lives.
"The end" provokes groups to think a bit differently about Christian theology and God's redemption story — not simply as tenets or a collection of one-time events but as means of understanding how the eternal things of God are a part of our everyday lives.
UMC Lead Talks
UMC Lead is an annual conference of TED-style talks by United Methodist leaders. These are excellent videos to view and discuss in small groups. Some good ones to start with include:
Sabrina Short talks about the importance of churches uniting with their neighbors to improve their communities together.
Angela Renee Johnson gives a Good Samaritan perspective on what it means to step out on faith and do something you would never do before.
Trip Lowery shares about ministry and living with Autism Spectrum Disorder. Rev. Lowery is a member of the North Carolina Conference. Check out his video below:
Free Christian Movies Online
This brand new and completely free video streaming platform offers lots of Christian movies and series that your group can watch on their own and meet to discuss. Sign up for a free account to access the Beta version of this website. RedeemTV also offers some small group studies. Here are some of the available titles:
Book by Book
The Man of Galilee
History of Christianity
Going on Vocation
The Apostles' Creed
Free Webinars
Most organizations that offer free webinars also offer archived recordings of those webinars. You can find a topic of interest to your group, watch the recording individually, and then meet online together to discuss.
Center for Leadership Excellence
The NC Conference Center for Leadership Excellence has been producing excellent webinars on a variety of aspects of ministry. Some especially interesting titles include:
Ministering to the Whole Person: Wesleyan Precedents for Ministry in a Pandemic
Finding New in the Familiar: Reading Scripture with Fresh Eyes
Living from the Heart at a Time of Heightened Anxiety
Living Together in the Midst of Conflict
Market Square Books
Market Square Books is a United Methodist publisher that has hosted several free webinars featuring its authors. You can make these webinars into a longer study by watching the webinar and studying the book the author is speaking about. We recommend these archived webinars:
What it Means to Be "Methodist." A Look at Wesleyan Grace
Reclaiming the Call to Lay Ministry
Unafraid and Unashamed, The Future of United Methodism
Discipleship Ministries of The UMC
These archived webinars offer training on ministry, leadership, and discipleship. These titles may be of interest:
The United Methodist Way
Reclaiming Evangelism
Boomer Spirituality
Spiritual Leadership Practices: Living into God's Vision
Idea #2: Use a Bible study app.
Connected Faith is a new bible study app from United Methodist publisher, Abingdon Press. It is designed for use in small groups with weekly lessons that include videos, discussion questions, action items, and scripture. The bible study is ongoing with new units available every three months. Pricing is based on the size of your group and is currently 50% off.
Connected Faith offers a great opportunity to launch new online small groups. Members that don't want to do a Zoom meeting or have not previously participated in a small group can easily join in on their own time and contribute to the discussion through the app's chat feature. This option may be especially appealing to parents of young children who have busy schedules and may not want to commit to a scheduled video chat.
Idea #3: Take an online class together.
The members of your small group could all sign up to take an online class together. You would sign up as individuals and then participate together in the same class.
Upper Room eLearning
The Upper Room, a United Methodist publisher, offers a unique option to set up a private online classroom for your small group to take one of their courses only with each other. There are simple instructions on how to set this up. These courses are recommended for our current times:
Soul Reset
Which Way, Lord?
Freedom from Worry
Facing Financial Struggle
BeADisciple.com

BeADisciple.com is a program of the Richard and Julia Wilke Institute for Discipleship at Southwestern College, a United Methodist institution in Winfield, Kansas. Courses are conducted in small groups of about 5 – 20 with a trained facilitator or a certified instructor. Students begin together, progress through materials together, and end together. Individual students participate at the time of day that works best for them. View their Course Schedule to see a list of upcoming courses.
Idea #4: Next Generation Small Groups
Market Square Books, the United Methodist publisher mentioned above, is offering packages designed to use their books as online small group studies. Each package includes:
A live, online, "Lead the Leader" session with book authors, to demonstrate the use of their books with small groups.
Digital copies of each book for distribution to members of the small group.
A detailed Leader's Guide which can be used by a group facilitator to walk the group through the session.
A PowerPoint slideshow which can be used with each weekly session to assist the leader/facilitator in moving the group through the session.
Participant handouts which can be sent to each group member before each weekly meeting
The pricing of each package is based on the number of people in your small group. The available studies are based on these books:
Foundations: Introduction to Christian Practices
Launching Leaders: Taking Leadership Development to New Heights
IMPACT! Reclaiming the Call of Lay Ministry by Kay Kotan and Blake Bradford
Disciple Like Jesus: Making Disciples Like Jesus Who Make Disciples Like Jesus by Phil Maynard and Eddie Pipkin
Idea #5: Use continuous curriculum.
Adult Bible Studies
The Adult Bible Studies curriculum is used by hundreds of thousands people each week. It is a trusted United Methodist resource that has undergone some recent improvements including the addition of a video component.
FaithLink
FaithLink's ready-to-use lessons connect faith to the issues and events making headlines every day. New issues can be downloaded weekly and you can subscribe through email. These PDF lessons provide the leader of your group with all they will need to teach a timely and biblically-based lesson every week. Permission is granted to share the PDF within your group.
You can download a free sample lesson. Recent issues include these timely topics:
Creativity in a Pandemic
Relationships in the Time of COVID-19
Unemployment
Isolation
Belton Joyner's Bible Study
The NC Conference's own Rev. Belton Joyner writes a weekly bible study based on the scripture lessons of the Adult Bible Studies series listed above. These short lessons are posted for free download monthly on the NC Conference website. You can also sign up to receive them through email.
Idea #6: Download a PDF study.
Some complete small group studies can be downloaded as a free single PDF. The leader can download and review the study and then share appropriate pages with the group members. These text-based studies can be taught in online meetings just like in a regular in-person meeting.
The General Commission on the Status and Role of Women
Not just for women's groups, these excellent studies explore important ways of understanding God, relationships, and ministry. Our own Bishop Hope Morgan Ward wrote the introduction for the "God of the Bible" study. We recommend these titles for all adult small groups:
The Way of Integrity
God of the Bible
Women Called to Ministry
Rock, Shepherd, Friend
The General Commission on Religion and Race
GCORR offers lots of free resources on their website. Check the boxes for Discussion Guide, Group Activity, or Self Reflection to find a variety of resources that could be used with your online small group. You can even share the resources with your group members so everyone is on the same page. Some great resources for small groups include:
Implicit Bias Workbook or Online Course
GCORR Real Talk
Movies and Books for Intercultural Learning
Is Reverse Racism Really a "Thing?"
The North Carolina Council of Churches
The NCCC also offers many small-group studies and free ebooks on their website. Everyone in your group can download the PDF. It includes everything you need to lead the study. We recommend the following titles:
Becoming the Church Together
North Carolina's Role in Torture
Eating Well
For You Were Once a Stranger
The World Council of Churches
The WCC offers several free online bible studies related to COVID-19. These short studies can be read online and shared with your whole group. The titles are:
Spread Only the Contagion of Love
Healing the World: Eight Bible Studies for the Pandemic Era
From the Old Jerusalem to the New: Lamentations to Blessings
Facing the Red Sea: Overcoming Fear by Using Your Gifts
Healing the World: Sorrow without Fear
Idea #7: Read a book together.
You can even do an old-fashioned book club or book study with your online group. Pick a book for everyone to read and you can meet online to discuss the whole book together, or set up a reading schedule and meet periodically to discuss what you have read so far.
Books with Discussion Questions
The NC Conference Media Center keeps lists of all of the books in our collection that include discussion questions. These lists are divided by general topic. Consider these titles for these times:
Simply Grace: Everyday Glimpses of God by Bruce L. Blumer
Finding Peace in an Anxious World by Erin James-Brown
Solve: Finding God's Solutions in a World of Problems by Talbot Davis
Interrupting Silence: God's Command to Speak Out by Walter Brueggemann
Faith & Culture Book Club
Cokesbury offers free PDF reading guides for several excellent books in its Faith & Culture Book Club. We recommend these titles that are also in the NC Conference Media Center's collection:
The Cross and the Lynching Tree by James H. Cone
Inspired: Slaying Giants, Walking on Water, and Loving the Bible Again by Rachel Held Evans
The Gifts of Imperfection: Let Go of Who You Think You're Supposed to Be and Embrace Who You Are by by Brené Brown
Tattoos on the Heart: The Power of Boundless Compassion by Gregory Boyle
Small Group Guides
Christian publisher HarperOne offers free small group guides for many of their books at the website smallgroupguides.com. You can browse the list of over 160 titles by topic. Most, if not all, of these books are available as ebooks. Some recommended titles:
The Power of Ritual: Turning Everyday Activities into Soulful Practices by Casper ter Kuile
How the Bible Actually Works by Peter Enns
Grateful: The Transformative Power of Giving Thanks by Diana Butler Bass
Unafraid: Moving Beyond Fear-Based Faith by Benjamin L. Corey
UMC Recommendations
The staff at The United Methodist Publishing House and Abingdon Press recently recommended books that would be good to read during these times.
Request These Resources
These resources can be borrowed for free by anyone involved with a United Methodist Church in the North Carolina Conference. We will mail them to your home! All you need to do is fill out the Resource Request Form.