The #BeUMC campaign reminds us of who we are at our best — the spirit-filled, resilient, connected, missional, faithful, diverse, deeply rooted, committed, disciple-making, Jesus-seeking, generous, justice-seeking, world-changing people of God called The United Methodist Church.
We offer our gifts and resources to serve those in need, both near and far. United Methodists cultivate a generosity of spirit, time, and resources. During Advent, we respond to God's most generous gift of all, Jesus.
The NC Conference Media Center offers resources on generosity for small groups, church leaders, and children – for the Advent season and throughout the year.
Generosity for Small Groups
Saving Grace: A Guide to Financial Well-Being (DVD Study) from Abingdon Press. This six-part study provides the text and tools you need to address the topics of saving, earning, giving, spending, and debt, along with helpful strategies for achieving a sustainable financial life.
Earn. Save. Give. Wesley's Simple Rules for Money (DVD Study) by James A. Harnish. To John Wesley, the task was simple: earn all you can, save all you can, give all you can. In this study, pastor and author James A. Harnish presents Wesley's concepts and beliefs in plain, useful language suitable for groups to discuss and act upon.
The Generosity Challenge: 28 Days of Gratitude, Prayer, and Faith (DVD Study) by Scott McKenzie and Kristine Miller. After 28 days, members of this group study are encouraged to embrace a life-giving journey toward generosity and provided a road map on how to get there.
Enough: Discovering Joy Through Simplicity and Generosity (DVD Study) by Adam Hamilton. Enough is an invitation to rediscover the Bible's wisdom on prudent financial practices. Find the keys to experiencing contentment, overcoming fear, and discovering joy through simplicity and generosity.
Defying Gravity: Break Free from the Culture of More (DVD Study) by Tom Berlin. In this 4-week small group study, pastor and author Tom Berlin explores what is required to sustain a vibrant life, what we need versus what we want, and what we can do to avoid being pulled into the orbit of materialism.
FastPrayGive Small Group Study: Ending Hunger By The Means of Grace by Andy Morris. The World Methodist Council passed a resolution in 2011 calling the people known as Methodist to Fast one meal per week, Pray during that time for world hunger, and Give to those in need. This became a global initiative of the World Fellowship of Methodist and Uniting Church Men and as a result, launched FastPrayGive.org. This small group study is a resource to aid you in joining this grassroots discipleship movement.
Generosity for Church Leaders
Generosity, Stewardship, and Abundance: A Transformational Guide to Church Finance by Lovett H. Weems Jr. and Ann A. Michel. This book provides practical advice to pastors and church leaders tasked with funding ministry and inspiring others toward responsible stewardship and greater generosity.
Growing Generous Souls: Becoming Grace-Filled Stewards by Betsy Schwarzentraub. This book offers reflection questions and resources to help communities move toward becoming more fully grace-filled stewards of all that God has provided.
Generosity Rising: Lead a Stewardship Revolution in Your Church by Scott McKenzie. In this book, you'll get practical guidelines for training a dedicated team of "generosity revolutionaries" who embrace, live, and lead others on a journey of gratitude, prayer, and faith.
The Gratitude Path: Leading Your Church to Generosity by Kent Millard. This biblically based, no-nonsense resource will enable you to help people count their blessings and give to God out of gratitude.
Disciples Living Generously by Junius B. Dotson. This booklet aims to give leaders a foundation to see the task of growing generosity as a critical ingredient in our mission of making faithful disciples that will transform the world.
Extravagant Generosity: The Heart of Giving (Kit) by Michael Reeves & Jennifer Tyler. Many programs talk about the role of giving in the spiritual life, but they fail to involve church members thinking and praying about their financial discipleship on a day-to-day basis.
Generosity in Advent
A Different Kind of Christmas: Living and Giving Like Jesus (DVD Study) by Mike Slaughter. This five-week study helps participants see the traps and discontentment of consumerism and the call of God to live generously to fulfill God's mission in the world.
All I Want for Christmas: Opening the Gifts of God's Grace by (DVD Study) James W. Moore. This five-week Advent study helps us think about what we really want for Christmas by reminding us of the amazing, life-changing gifts Christmas has in store for us.
Triptych 2022: Daily Advent Scripture, Reflection, and Prayer (including Christmas and Epiphany) by Steve Hickle and Andy Morris. Together, we are called to deepen our discipleship, profoundly involving God in our inner and outer lives, what John Wesley called "piety" and "mercy." We invite you to connect with our core ministry, FastPrayGive.org, where you may become part of a year-round weekly discipline and join a growing movement to end hunger by grace.
7 Days of Christmas: A Season of Generosity by Jen Hatmaker. Best-selling author Jen Hatmaker shows how you can turn seven key areas of consumption—food, clothes, spending, media, possessions, waste, and stress—into thoughtful and practical generosity that captures the true spirit of Christmas.
Imagining a New World: An Advent Devotional by Terri Hord Owens. The author delves into Advent lectionary texts to reflect on God's vision for the world and how we might find the courage to imagine, the permission to change, and the freedom to fear no more.
Saint Nicholas: How the Christian Saint Became Santa Claus by Steve Skelton. In five short chapters, Stephen Skelton tells the story of the real Saint Nicholas, who inspired the character of Santa Claus, and how he lived his life as a true servant of Christ.
Generosity for All Ages
What About Our Money? A Faith Response by Susan K. Taylor. This study explores our own relationship with money, the money choices available to us, and how we individually and collectively respond to economic inequalities in light of our faith. The companion studies listed below make this curriculum available for all ages.
Is It Just Money? Our Dollars, God's Economy: A Youth Study by Anna Burkett and Tom Burkett. This study is designed to engage youth in an exploration of money as it relates to faith and justice. Help youth deepen their understanding of the complex questions that surround making, having, giving, and using money.
Money Matters: A Study for Children by Denise Snyder. This study endeavors to teach children about the concept of money, the importance of generosity, and how God intends for us to use money as an expression of love for others.
Generosity for Children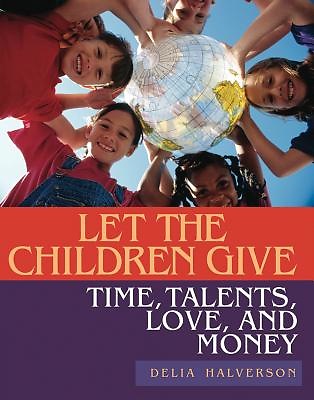 Let the Children Give: Time, Talents, Love and Money by Delia Halverson. This book is designed to be used to supplement an ongoing ministry with children. It will help to teach them how to use their gifts, talents, and the earth's resources in a way to show their love for God.
Elizabeth & Stella Meet ZOE by Melissa Harrell. Elizabeth and Stella are introduced to a special ministry called ZOE. Each girl, in her own way, is impacted by this empowerment movement that helps orphans learn how to take care of themselves. This inspiring story will introduce readers to generosity in a way they can understand and champion them to take action in their own world.
The Suitcase: A Story About Giving by Jane G. Meyer. This book celebrates a young child's enthusiasm to put into practice the words of Christ: to feed and clothe the poor; help the needy; and love one's neighbor.
Request These Resources
These resources can be borrowed for free by anyone involved with a United Methodist Church in the North Carolina Conference. We will mail them to your home! All you need to do is fill out the Resource Request Form.