The NC Conference Media Center has a new special collection related to sexual ethics. Most of these resources were donated by a retired United Methodist minister, researcher, and writer who used them in her professional work. Additional resources provided by The NC Conference Commission on the Status and Role of Women and The NC Conference Media Center are also included.
These resources can be borrowed by anyone in the North Carolina Conference seeking to learn more about sexual ethics in faith communities.
The 32 resources in the Sexual Ethics collection include topics such as:
Understanding sexual ethics
Clergy sexual abuse
Pastoral care of sexual abuse survivors
Healing for individual survivors and congregations
Faithful response to pornography
Advocacy for the prevention of sexual violence
Highlights from the Collection
These are 6 out of the 32 resources in our new Sexual Ethics collection.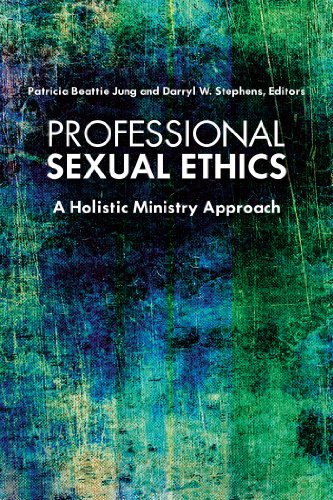 Professional Sexual Ethics: A Holistic Ministry Approach edited by Patricia Beattie Jung and Darryl W. Stephens. Focusing on implications for the practice of ministry, this book engages all dimensions of theological education and academic disciplines.
Fighting the Good Fight: Healing and Advocacy after Clergy Sexual Assault by Carolyn Waterstradt. Studies show that up to 39 percent of clergy report having sexual contact with a congregant, but many are unaware this constitutes sexual assault. This book shares the stories of survivors while offering the hope that healing is possible, and that if practical strategies are implemented by religious institutions, incidences of assault and the horrific aftermath can be greatly reduced.
One Soul, One Love, One Heart: The Sacred Path to Healing All Relationships by John E. Welshons. The author shows us how to heal our most difficult relationships by transforming them into our greatest spiritual lessons and how to love, forgive, and care for our fellow human beings — even those we find most difficult to love and forgive.
A Conspiracy of Love: Living Through & Beyond Childhood Sexual Abuse by Wendy Read. Though this book is intended to speak primarily to adults who have suffered childhood sexual abuse, anyone who seeks to find meaning in suffering, or who grapples with the concepts of evil and holiness, will appreciate the truth and wisdom contained in this book.
Sexual Abuse: Pastoral Responses by Len Hedges-Goettl. When you preach on a typical Sunday morning, you can be sure that you are looking in the faces of people who have been and are being sexually abused. This book will equip pastors, particularly, but also educators, spiritual directors, and anyone called to a ministry of compassion to begin to address this great hurt.
From Hurt to Healing: A Theology of the Wounded by Andrew Sung Park. As the church seeks to play its distinctive role in healing the wounds of abuse and violence, the idea of the Korean religious term han can be a powerful tool. While it is an intricate concept, in short, han can be defined as the psychic and spiritual hurt caused by unjust oppression and suffering.
Complete Collection and Related Resources
The complete collection of 32 titles is listed in our Sexual Ethics pathfinder. Additional resources related to sexual ethics can be found in our pathfinders on Safe Sanctuaries and Violence Against Women.
Request These Resources
These resources can be borrowed for free by anyone involved with a United Methodist Church in the North Carolina Conference. We will mail them to your home! All you need to do is fill out the Resource Request Form.