January is National Slavery and Human Trafficking Prevention Month. Take this time to educate your congregation about this issue and consider taking action. The NC Conference Media Center offers DVDs and books to inform your congregation, as well as a curriculum designed to prevent the trafficking of children and teens. You can find all of these resources listed in our Human Trafficking pathfinder or read more about them below.
Freedom Sunday
The International Justice Mission is a global organization that protects people in poverty from violence. They partner with local authorities in 24 program offices in 14 countries to combat trafficking and slavery, violence against women and children, and police abuse of power. IJM offers all the resources you need to host a Freedom Sunday at your church. Freedom Sunday is an opportunity for your entire church family to deepen their understanding of God's heart for justice, discover the realities of modern slavery and join the fight to end it.
DVDs
Trauma & Trafficking: A Christian Response. Human trafficking and sexual abuse are real problems in all parts of the world, even our own neighborhoods. As Christians, we have a responsibility to help those in need. Hosted by Biblical Seminary and presented by professionals in the field, this DVD seminar addresses those pertinent issues.
Not for Sale: A Two-Part Documentary on the Fight Against Human Trafficking. Based on the book Not for Sale by David Batstone, this DVD covers what modern-day abolitionists are doing to fight the rampant terrors of human trafficking in the US and abroad. Traveling over 120,000 miles across five continents, Producer and Director Robert Marcarelli and his film crew gathered undercover footage on this billion-dollar industry and interviewed the heroes who are determined to see it end. Told by the people who've lived them, these compelling accounts aim to inspire individuals to practical action.
Trade of Innocents. In present-day Southeast Asia, down dark alleys, in secret rooms, children are for sale. Alex Becker and his team are the last defense. Alex leads his team on a raid of a known child trafficker, only to discover the trafficker has escaped, taking a seven-year-old girl and Alex's wife captive. Parallel storylines intertwine, and twists unfold against the backdrop of the dangerous world of human trafficking. Rated PG-13.
Lives for Sale: A Documentary on Immigration & Human Trafficking. Lives for Sale goes beyond the rhetoric to show why immigrants are willing to risk everything – even virtual slavery – for the American Dream. While politicians, activists, and the media wrestle with the thorny issue of immigration, this new investigative documentary exposes the painful, rarely seen human side of illegal immigration, especially the growing black market trade in human beings. The DVD contains lots of extras, including a study guide, script, fact sheets, brochures, video clips, and more. Funding in part by the United Methodist Women's Division, The General Board of Global Ministries.
Somebody's Daughter: A Journey to Freedom from Pornography. Watch – and listen – as three men and a husband and wife share their intensely personal struggle of how pornography crept in and ravaged their lives. From abuser to victim, its introduction seemed harmless but proved to be an infectious destroyer.
Books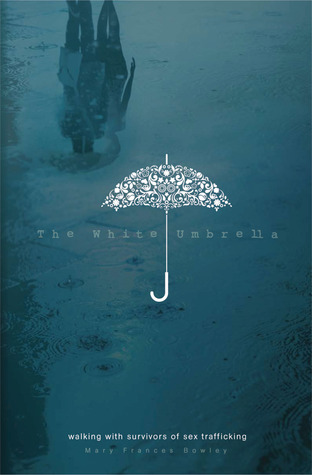 The White Umbrella: Walking with Survivors of Sex Trafficking by Mary Frances Bowley. The White Umbrella tells stories of survivors as well as those who came alongside to help them to recovery. It describes the pain and the strength of these young women and those who held the "white umbrella" of protection and purity over them on the road to restoration. This book offers principles and guidance to anyone with a heart for these hurting young women and a desire to help. It is an ideal resource for individuals or organizations seeking to learn what they can do to assist these victims in becoming whole again.
God in a Brothel: An Undercover Journey into Sex Trafficking and Rescue by Daniel Walker. This is the true story of an undercover investigator's experiences infiltrating the multi-billion-dollar global sex industry. It is a story of triumph for the children and young teens released from a life of slavery and the rescuer who freed many hundreds of victims leading to the prosecution of dozens of perpetrators. And it is a story of haunting despair for those left behind in corrupt systems of law enforcement. It is the personal story of Daniel Walker, one man who followed a path of costly discipleship, agonizing failure, and unlikely redemption. And it is a challenge to God's people to join in the battle that all might be freed.
Women Rise Up: Sacred Stories of Resistance for Today's Revolution by Katey Zeh. Zeh brings an activist sensibility to her reading of biblical stories—like Sarah and Hagar caught in the crossfire of human trafficking—to inspire modern women and their allies to rise up in the face of injustices near and far. In a time where Christians the world over are using their sacred scriptures to shame survivors, vilify immigrants, and excuse violence, Women Rise Up offers an alternative witness for readers, students, leaders, and pastors who love their faith but can no longer abide its misuse in today's revolution.
For Children and Teens
Born2Fly by Diana Scimone, Karen Armistead, and Georgia Ana Larson. The Born2Fly project offers a children's educational curriculum and children's wordless eBook to help prevent human trafficking before it starts. The curriculum is designed to teach children self-respect and how to avoid becoming victims of human trafficking. Included with the standard Born2Fly curriculum is the Soaring Higher curriculum, a supplement to be used in Christian classrooms. It emphasizes biblical principles in the eBook. Each session includes scripture and prayer. Children will learn how to be safe, follow their dreams, love unconditionally, be patient, and work hard. The Soaring Higher supplement teaches children to choose friendship with Jesus who will love and protect them and help them to be safe and successful as they follow their dreams. The materials include training information for adults and teenagers who would like to teach the curriculum to children. The Dream Big with God curriculum is for teaching teens in Christian schools.
Request These Resources
These resources can be borrowed for free by anyone involved with a United Methodist Church in the North Carolina Conference. We will mail them to your home! All you need to do is fill out the Resource Request Form.