The COVID-19 pandemic continues to affect our churches and our lives. We still grieve from loss, live with illness, and seek a Christian understanding of this worldwide crisis. As more people receive vaccines, churches are wrestling with the long-term effects of church closings and considering what may look different when we re-open. Church members still seek to be of service to their community during these challenging times.
The NC Conference Media Center recommends the following books and online resources to help churches faithfully respond to the COVID-19 pandemic, address current concerns, and plan for the future.
Responses to the Pandemic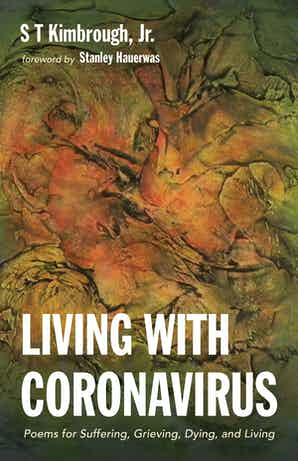 Living with Coronavirus: Poems for Suffering, Grieving, Dying, and Living by S. T. Kimbrough, Jr. with a foreword by Stanley Hauerwas. This volume of poems addresses the human effects of the coronavirus pandemic including prolonged illnesses, death, disruption of society, families, the workforce, and the economy. The poems also address issues the pandemic has brought into the open, such as racism, the vulnerability of the poor, and the importance of governmental leadership in a national and worldwide crisis. How shall we live with the enduring problem of pandemics that require changing attitudes and an ongoing concern for others?
Pandemic Prayers: Devotions and Prayers for a Crisis by Beth Felker Jones. This short book of devotional reflections and prayers shares the love of God and the hope we have in Jesus Christ as we face a time of fear, anxiety, isolation, and suffering. The devotions include material from Psalms of Lament, Julian of Norwich, and reflection on the meaning of Christ's death and resurrection. These reflections are a companion for anyone walking through suffering and crisis.
The Great Coronavirus Pandemic and Messages from the Prophets by Doman Lum with a foreword by Gerald C. Liu. As we witness the mounting illness and death toll of the coronavirus, the messages of the Old Testament prophets offer comfort and truth. Doman Lum crafts twenty-one sermons which preach the good news of God's love. The story of the great pandemic involves the impact of COVID-19, President Donald Trump, the murder and killings of African Americans, and the 2020 presidential election. The Old Testament prophets and contemporary biblical theologians share spiritual insights, faith, and trust. This book features the reading of Scriptures, profound and thoughtful sermons, and pastoral prayers.
Virus as a Summons to Faith: Biblical Reflections in a Time of Loss, Grief, and Uncertainty by Walter Brueggemann. Why bother with the interpretive categories of biblical faith when in fact our energy and interest are focused on more immediate matters? The answer is simple and obvious. We linger because, in the midst of our immediate preoccupation with our felt jeopardy and our hope for relief, our imagination does indeed range beyond the immediate to larger, deeper wonderments.
God and the Pandemic : A Christian Reflection on the Coronavirus and Its Aftermath by N. T. Wright. Discover a different way of seeing and responding to the Coronavirus pandemic, an approach drawing on Scripture, Christian history, and the way of living, thinking, and praying revealed to us by Jesus. Wright shows that a careful reading of the Bible and Christian history offers simple though profound answers to our many questions. This book will serve as your guide to read the events of today through the light of Jesus' death and resurrection.
Responses to Suffering
What Loss Can Teach Us: A Sacred Pathway to Growth and Healing by Beth Taulman Miller. Set in the context of the author's own story of loss, this book offers stepping stones for the journey of not "getting through" the chaos of loss and pain but saying yes to the invitation of emotional and spiritual formation. Spiritual practices that serve as meaningful companions for the process are included.
Beautiful and Terrible Things: A Christian Struggle with Suffering, Grief, and Hope by Christian M.M. Brady. When his eight-year-old son died suddenly from a fast-moving blood infection, Brady heard the typical platitudes about accepting God's will and knew that quiet acceptance was not the only godly way to grieve. With deep faith, knowledge of Scripture, and the wisdom that comes only from experience, Brady guides readers grieving losses and setbacks of all kinds in voicing their lament to God, reflecting on the nature of human existence, and persevering in hope.
Ladder to the Light: An Indigenous Elder's Meditations on Hope and Courage by Steven Charleston. Choctaw elder and Episcopal priest Steven Charleston offers words of hard-won hope, rooted in daily conversations with the Spirit and steeped in indigenous wisdom. Native America knows something about cultivating resilience and resisting darkness. For all who yearn for hope, Ladder to the Light is a book of comfort, truth, and challenge in a time of anguish and fear.
Looking for God in Messy Places by Jake Owensby. This book is for anyone who has ever been frozen in place by loss or regret or endured suffering, cruelty, or rejection. Quite simply, it is a book about hope. How to find it. How to practice it. How to grow in it. How it makes life worth living. Because when we look for God in the middle of the mess, we find hope.
Blessed Endurance: Moving Beyond Despair to Hope by John R. Wimmer. Although we can't always understand or control many things that happen to us, we can choose how we will respond to them. Wimmer encourages us to choose to regard times of difficulty as opportunities for spiritual and personal growth. This is because we are not alone in our suffering, he reminds us—the writers of Psalms and even Jesus felt abandoned by God at times. To endure through such times is a blessing. This inspiring book offers practical help for moving from pain and despair to the blessing of hope.
Learning to Be: Finding Your Center After the Bottom Falls Out by Juanita Campbell Rasmus. When everything in her life came to a stop, Pastor Juanita Rasmus found that she had to learn to be-with herself and with God-all over again. Offering both practical and spiritual insights, she shares a wise, frank, and witty account of her own story of exhaustion and depression, acting as a trustworthy companion through dark days.
Building Resilience: When There's No Going Back to the Way Things Were by Alice Updike Scannell. How do we build our capacity for healing and growth when we can no longer do the things we once did that gave our lives satisfaction, meaning, and purpose? This book offers a path toward creativity in responding to change in your life, regaining some control over your circumstances, and overcoming feelings of helplessness. Whether you're 17 or 75, if life has thrown you a curve ball, this book can help you get on track toward being yourself in your new normal.
Leading through the Pandemic
Being the Church in a Post-Pandemic World: Game Changers for the Post-Pandemic Church by Kay Kotan. As the church begins to emerge from the pandemic, our role is changing. It was already changing pre-pandemic, but the change is sure to escalate drastically post-pandemic. This resource is designed to serve as a guide to what conversations might be helpful for you and your church's leadership. This book is to be used as a tool, not an instrument of judgment or criticism. This resource was created out of a heart full of love for the local church and the hope it will be helpful in finding our next faithful steps to being the vital church in the post-pandemic world. Contributors include Bishop Laurie Haller, Bishop Sharma Lewis, Bishop Michael McKee, Bishop Bruce Ough, Bishop Jeremiah Park, Bishop Sandra Steiner-Ball, and Bishop Debra Wallace-Padgett.
We Shall Be Changed: Questions for the Post-Pandemic Church edited by Mark D. W. Edington. How will we regather the church after the pandemic? This book is a gathering of brief essays from thought leaders on pressing topics that the church needs to be considering now—in preparation for the end of this pandemic. The book is designed to spur conversation within parishes, fellowship groups, and clergy gatherings about how to embrace the gifts this time has given while anticipating and addressing the very real challenges the church will confront in its wake. Contributors: Elise Erikson Barrett, Molly Baskette, Paul-Gordon Chandler, Shane Claiborne, Kelly Brown Douglas, C. Andrew Doyle, Sarah Birmingham Drummond, Mark Edington, Miguel Escobar, Greg Garrett, Lizette Larson-Miller, Lorenzo Lebrija, Jeffrey D. Lee, Andrew B. McGowan, James Murphy, Deanna Thompson, Robert Wright.
The Post-Quarantine Church: Six Urgent Challenges + Opportunities That Will Determine the Future of Your Congregation by Thom S. Rainer. From thousands of surveys of church leaders and in-person consultations, Thom Rainer and his Church Answers team have gathered the essential wisdom you will need to face the challenges and opportunities that the quarantine crisis creates for the local church. This book is, in effect, your personal church consultant, helping you plan and prepare for the future. In the midst of heartbreak, tragedy, and struggle due to Covid-19, here's hope, wisdom, encouragement, and vision. This book is valuable for those looking for local church and pastor resources to enhance church leadership, grow your church, and serve digital and online church communities in the post-quarantine world.
The Church Recovery Guide: How Your Congregation Can Adapt and Thrive After a Crisis by Karl Vaters. What's next for your church? In the midst of the COVID-19 pandemic, church leaders are facing challenges they've never encountered. As you have adapted to this fast-changing situation, you must also begin thinking through the months ahead to consider: how will my church recover? This book outlines the practical steps you can take to help your church not only survive but also thrive in the aftermath of the coronavirus crisis. It will provide the direction you need to help your church bounce back to full health and chart a path forward to even greater vitality.
Growing Through Disaster: Tools for Financial and Trauma Recovery in Your Faith Community by Clayton L. Smith and Matt Schoenfeld. This book shows faith communities how to come together to combat hopelessness and gain/regain financial strength. No matter the type of disaster, the authors' vast experience in assisting communities through recovery can help lead your own community through the process of spiritually-rooted renewal and revitalization. There is a six-session group study to assist pastors and others in facilitating discussion and focus on recovery strategies. The study offers Scripture-based hope and encouragement as a way for people to process trauma together in a safe place.
Tempered Resilience: How Leaders are Formed in the Crucible of Change by Tod Bolsinger. What type of leadership is needed in a moment that demands adaptive change? Exploring the qualities of adaptive leadership within churches and nonprofit organizations, Tod Bolsinger deftly examines both the external challenges we face and the internal resistance that holds us back, showing how leaders can become both stronger and more flexible. An 8-session study guide for this book is also available.
Congregational Responses to the Pandemic
Reunion: A Bible Study for Churches Getting Back Together by David Kalas. As churches open their doors again, what will happen? Will things go back to normal? What will be the new normal? In this six-week study, David Kalas provides a resource to help pastors, group leaders, and congregations navigate these uncharted waters. Reunion will help people come back together, reconnect with one another, rebuild their churches, and move forward into an even better future of serving God together. This book includes a leader guide to use in group study and discussion.
The Caring Congregation Ministry Implementation Guide by Karen Lampe and Melissa Collier Gepford. Although caring for one another within a church family may seem easy, the theology of caring and the practicalities involved and even visitation etiquette are issues about which Congregational Care Ministers must be aware and understand. The authors have put together an indispensable implementation guide that equips pastors and lay leaders of any size, type, or denomination of church with all the necessary resources needed to build and sustain a Congregational Care ministry, including handouts, worksheets, and templates, in addition to advice on teaching people how to listen, comfort, and encourage congregants. We also have The Care Minister's Manual that serves as the personal training workbook and reference guide for Congregational Care Ministers.
Online Resources
Both/And: Maximizing Hybrid Worship for Online and In-Person Audiences. Join Jason Moore at this online workshop presented by the Center for Leadership Excellence on April 27th at 9:30am-12:00pm. You will delve into strategies for how to create powerful transformative worship where no one feels like they're an afterthought.
Game Changers of the Post-Pandemic Church. Join Kay Kotan at this webinar on May 31st. Being the church pre-pandemic looked different than what it will take to be the church post-pandemic – especially if you are looking to be a vital and effective church. Come explore the nine practices the church must fully embrace to thrive in the post-pandemic world.
How to navigate the chaos of returning to in-person church. With their plans upended on Holy Monday, a pastor and staff at a Michigan church leapt into Holy Week and Easter, revising as they went. He shares three insights he hopes will help others returning to in-person worship.
Growing your church without walls. In this article on Resource UMC, Dirk Elliott from the Michigan Conference suggests what are the next best practices as churches move forward.
Leadership during COVID-19. These articles and podcasts from The Lewis Center for Church Leadership at Wesley Theological Seminary offer lots of advice on leading ministry during and after the COVID-19 pandemic.
Additional Resources
Find more resources for congregations and church leaders to respond to the COVID-19 pandemic in the pathfinders on Grief and Illness, Mental Health Resources, and Weathering Storms.
Request These Resources
These resources can be borrowed for free by anyone involved with a United Methodist Church in the North Carolina Conference. We will mail them to your home! All you need to do is fill out the Resource Request Form.
Featured image by Jeyaratnam Caniceus from Pixabay