As the weather warms and vaccines are administered, churches may consider what the future of worship looks like. How can you use this time of transition to reimagine the worship your church will offer when you gather together again?
The NC Conference Media Center recommends using the following books with your worship leaders and worship teams to consider options for a refreshed worship service. Consider a new strategy, add new design elements, teach your congregation about worship, and include all ages in the celebration of worship. We've also listed online resources to assist you in your planning.
Worship Strategy & Planning
A Worship Workbook: A Practical Guide for Extraordinary Liturgy by Gerald C. Liu & Khalia J. Williams. This book is for leaders who yearn to create worship that involves and includes everyone in their midst. To develop new approaches to planning, so that their worship can reflect and respond to the realities of the community. To create worship for the church that is becoming. It includes chapters and discussion questions on widening our worship imagination and deepening the work of the people.
Worship Together in Your Church as in Heaven by Josh Davis and Nikki Lerner. How can we offer worship that is authentic and engaging for all of God's people, including longtime church members? The authors offer an empathetic, step-by-step approach, providing readers with knowledge, skills, and strategies to successfully introduce inclusive, multicultural worship in any setting.
Worship Ways for the People Within Your Reach by Thomas G. Bandy with Lucinda Holmes. Learn to use lifestyle information in worship planning to design a service that truly reaches the people in your community. This book explains why people worship and guides leaders to design relevant worship services that address people's sense of urgency.
The Worship Architect: A Blueprint for Designing Culturally Relevant and Biblically Faithful Service by Constance M. Cherry. This book sets forth basic principles concerning worship design and demonstrates how these principles are conducive to virtually any style of worship practiced today in a myriad of Christian communities. Readers will learn how to create services that are faithful to Scripture, historically conscious, relevant to God, Christ-centered, and engaging for worshipers of all ages in the twenty-first century.
Worship in the Garden by J. Wayne Pratt. Enhance outdoor worship and the experience of God by highlighting the beauty of creation with the special services, liturgical gardens, and biblical precedents included in this book.
Worshiping with United Methodists: A Guide for Pastors and Church Leaders by Hoyt L. Hickman. This popular book shows pastors and worship leaders the basics of United Methodist worship. Hickman explains the basic pattern of United Methodist worship within the broader context of Christian worship.
Worship Design
Glimpses of the New Creation: Worship and the Formative Power of the Arts by W. David O. Taylor. This book explains how every choice of art in worship opens up and closes down possibilities for the formation of a human life, both individual and communal. The book guides readers toward art in worship that forms persons in the life of the triune God.
Brim: Creative Overflow in Worship Design by Andra Moran & Suzanne Castle with Emily Keafer. This book combines music, art resources, imagery, digital content, leader devotionals, prayer encounters, practical how-to's and more to jumpstart your creative engine and to create new, meaningful worship experiences. You will find ways to engage your team, worship templates to launch the creative process, and encouragement for the solo worship planner.
Creating Holy Spaces: Worship Visuals for the Revised Common Lectionary by Delia Halverson and Karen Appleby. This book contains suggestions for worship visuals tied to each Sunday of all three years of the Revised Common Lectionary. These visuals can be assembled on the altar, placed elsewhere in the sanctuary, or photographed to be used for projection. Thanks to a topical index and a scripture index, those not using the lectionary can also take advantage of the great ideas found here.
Redesigning Worship: Creating Powerful God Experiences by Kim Miller. Discover how a real-life worship team interacts, champions creativity and creates powerful God-experiences, one week at a time. This descriptive book offers practical direction for building and leading teams, empowering creative ideas, and guidance for handling conflict and overcoming serious obstacles.
For Worshipers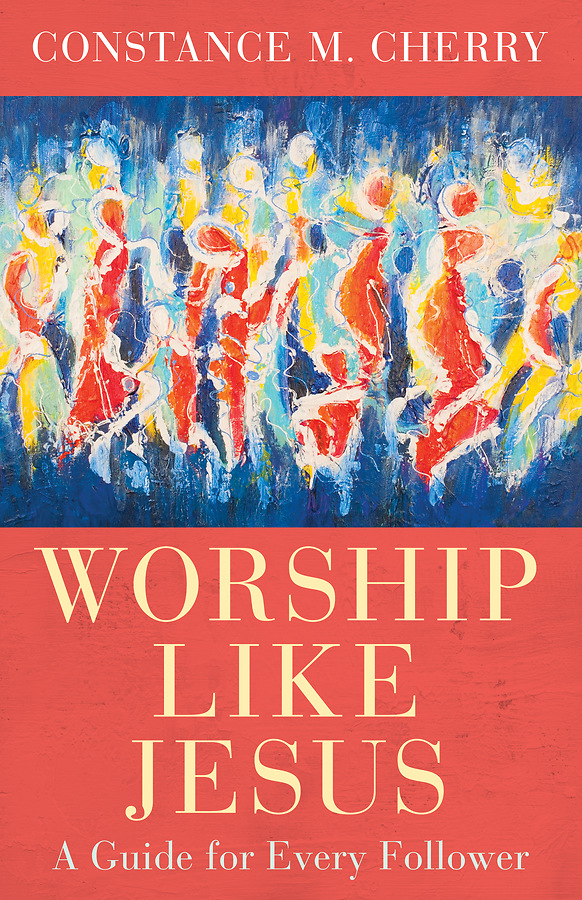 Worship Like Jesus: A Guide for Every Follower by Constance M. Cherry. This book will help ministry leaders share the basic meaning and purpose of worship with everyone in their congregation, using Jesus' model of worship. It uses sermons, team studies, and group experiences to help you change the culture of your whole church in ways you could never imagine. Includes a built-in Leader Guide for group study.
Worship by Matthew E. Johnson. Part of the Holy Living series, this study book brings the concept of worship outside the walls of a sanctuary where we find new energy for living a "Godward" life, a life of turning toward God for guidance moment by moment, day by day. Living a Godward life opens us up to God's transforming love and enables us to engage in practices of worship in locations and situations we never dreamed of before. Includes discussion questions.
Holy Roar: 7 Words That Will Change the Way You Worship by Chris Tomlin and Darren Whitehead. In the Book of Psalms, there are seven Hebrew words that are translated into the English word "praise," each of which represents a different aspect of what it means to truly praise God. In this four-session DVD study, pastor Darren Whitehead shares insights on how to deepen your practice of praise by uncovering the true meaning behind each of these Hebrew words, and Chris Tomlin shares how those insights take shape in the stories behind many of his worship songs.
Children & Intergenerational Worship
The Church of All Ages: Generations Worshiping Together edited by Howard Vanderwell. Nine writers–pastors, teachers, worship planners, and others serving in specialized ministries–offer their reflections on issues congregational leaders need to address as they design their worship ministry. The thread that connects these varied contributions is the belief that there is no greater privilege for Christians than worshiping God, and there is no better way to do that than as an intergenerational community in which all are important and all encourage and nurture the faith of the others. Each chapter includes questions for reflection and group discussion, and an appendix provides guidelines for small group use.
Holy Moments: Activities for Teaching Children About Worship by Emily La Branche Delikat. This book provides a library of activities created to help children grasp the elements of a typical traditional or contemporary worship service and can also enhance your children's church, Sunday school, or any children's event. Parent letters and reproducible materials are also included to help families connect holy moments at home with worship experiences in church.
Children Worship! by MaryJane Pierce Norton. This thirteen-session worship education resource helps congregations incorporate young children into the worshiping community. It offers planned experiences that help children understand what is expected in worship, how to participate, and what our words and actions mean. The book, designed for use with children ages five through eight or as an intergenerational experience, includes a planning guide, individual session plans, congregational bulletin inserts, parent letters, and reproducible activity sheets.
The Nursery of the Holy Spirit: Welcoming Children in Worship by Daniel R. Hyde. This book is based in the conviction that public worship is the nursery of the Holy Spirit and that bringing children in is both beneficial and a blessing. It offers practical advice on how to make this ideal a reality in your children's lives.
Always in Rehearsal: The Practice of Worship and the Presence of Children by James H. Ritchie, Jr. This book lays a theological, liturgical, and child-sensitive foundation for the inclusion of young persons in congregational worship, and provides a wealth of ideas for how this approach can be implemented.
Parenting in the Pew: Guiding Your Children into the Joy of Worship by Robbie Castleman. With infectious passion, nitty-gritty advice, and a touch of humor, Castleman shows you how to help your children (from toddlers to teenagers) enter into worship. She also provides a study guide for personal reflection or group discussion.
Online Resources
Worship Matters Podcast. This podcast from the worship team of Discipleship Ministries is designed to deal with the intricacies of planning worship each week. In Episode 38, the worship team begins a miniseries discussing the opportunities and challenges of returning to in-person worship.
12 Hopeful Signs from Worship Leaders During the 'Safer at Home' Quarantine. The Worship Team of Discipleship Ministries gathered worship practitioners from across the country for a conversation about worship during the COVID-19 pandemic. The transition from "in-the-building" worship to online-only worship was difficult, and the learning curve was steep. Yet, despite the difficulties, there are signs of hope and thoughts and practices to build on for the future. Listen to the entire conversation or read the highlights.
Worship for Kids. Ministry Matters offers this free weekly series that is designed to help pastors and children's ministry leaders teach youngsters using the lectionary readings. Articles are released weeks in advance to allow leaders plenty of time to prep their children's message.
Discipleship Ministries Worship Resources
Resource UMC Worship Resources
Ministry Matters Worship Resources
Additional Resources
The NC Conference Media Center has many more resources that you can borrow to use in your worship planning. To view the complete lists of resources, check out the following pathfinders:
Request These Resources
These resources can be borrowed for free by anyone involved with a United Methodist Church in the North Carolina Conference. We will mail them to your home! All you need to do is fill out the Resource Request Form.