We are all aware of the divisions among people in our churches, in our communities, and in our country. Christians are called to be peacemakers and repairers of the breach (Matthew 5:9, Isaiah 58:12).
The resources listed here provide tools and instruction for bridging divides and bringing together people who disagree. It is not only possible; it can be a powerful witness of the church to the world.
Instruction Books for Leaders
What Do We Do When Nobody is Listening? Leading the Church in a Polarized Society by Robin W. Lovin. Widely respected pastor and ethicist Robin Lovin offers sage counsel in this helpful book, arguing that to resist the trend of polarization in our church, we must rediscover how the gospel teaches us to understand ourselves, our neighbors, and the purpose of politics. He considers how Christians can shape a different response by learning to listen – to the Word of God, to the world, and to those who are not usually heard. Includes discussion questions.
Something Happens Here: Reclaiming the Distinctiveness of Wesley's Communion Spirituality in Times of Divisiveness by Stephen P. West. This book takes a fresh look at Wesley's core teachings on the Lord's Supper, letting each unique feature of Wesley's communion theology become a lens to navigate troubled waters. The author explores the historical background of each characteristic, finds evidence in writings of John and Charles Wesley, and applies them to the struggles of present-day United Methodism. He concludes with signs of life emerging in divisive and uncertain times, as people come back to the table to move forward into the future.
Called to Reconciliation: How the Church Can Model Justice, Diversity, and Inclusion by Jonathan C. Augustine. Nationally recognized speaker and church leader Jay Augustine demonstrates that the church is called and equipped to model reconciliation, justice, diversity, and inclusion. This book argues that the church's work in reconciliation can serve as a model for society at large and that secular diversity and inclusion practices can benefit the church. It offers a prophetic call to pastors, church leaders, and students to recover reconciliation as the heart of the church's message to a divided world.
A House United: How the Church Can Save the World by Allen Hilton. Jesus prayed that his disciples might all be one, and this book imagines a proper answer to that prayer in the context of American polarization. Rather than asking people to leave their political and theological beliefs at the church door, Hilton promotes a Christianity that brings people together with their differences. Through God's transforming work, he writes, we can create a house united that will help our nation come back together.
How the Body of Christ Talks: Recovering the Practice of Conversation in the Church by C. Christopher Smith. In today's highly charged social and political environment, we often don't know how to talk well with others–especially with people whose backgrounds differ from our own. Smith shows how church communities can be training hubs where we learn to talk with and listen to one another with kindness and compassion. The book explores how churches can initiate and sustain conversation, offers advice for working through seasons of conflict, suggests spiritual practices and dispositions that can foster conversation, and features stories from several congregations that are learning to practice conversation.
Disunity in Christ: Uncovering the Hidden Forces That Keep Us Apart by Christena Cleveland. In this eye-opening book, learn the hidden reasons behind conflict and divisions. With a personal touch and the trained eye of a social psychologist, Cleveland brings to bear the latest studies and research on the unseen dynamics at work that tend to separate us from others. Learn why Christians who have a heart for unity have such a hard time actually uniting. The author provides real insight for ministry leaders who have attempted to build bridges across boundaries. Here are the tools we need to understand how we can overcome the hidden forces that divide us.
Talk Through Tough Topics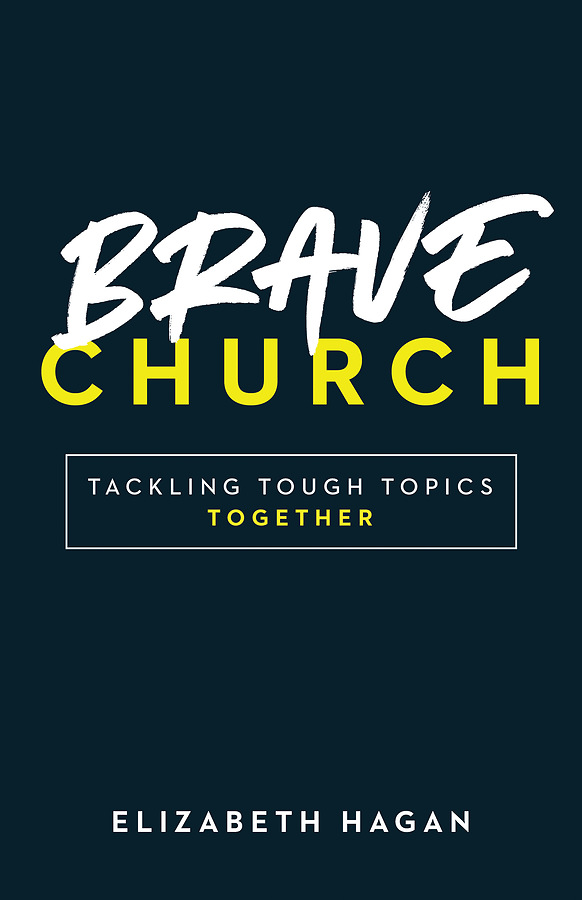 Brave Church: Tackling Tough Topics Together by Elizabeth Hagan. This book seeks to help readers create "brave spaces" in congregations and faith communities so that sharing stories and intentional listening can occur. This seven-week study will present the following topics: miscarriage/infertility, domestic violence, mental illness, racism, and sexuality. The reader will gain confidence in understanding why churches can be (and are called to be) the place for difficult conversations. Readers will gain tools for listening with openness, empathy, and respect to those who have different opinions and life experiences.
A House Divided: Engaging the Issues through the Politics of Compassion by Mark Feldmeir. Mark Feldmeir, pastor of a 3,500 person, politically diverse United Methodist congregation, explores eight of the most divisive issues of our day—climate change, racism, immigration, healthcare, medical aid in dying, Islamic extremism, homosexuality, and social isolation and suicide—through the lens of "a politics of compassion," the motivating, unifying ideals of the gospel that insist that we work together for the benefit of the common good. Through a series of axioms, or principles we can all agree on, Feldmeir seeks to identify those shared values that affirm our commonality and inspire a more creative and collaborative approach to finding practical solutions and healing our divisions. Includes study guide.
Rooted in Grace: Essays on Dialogue Without Division edited by Larry Duggins and Andrea L. Lingle. This book is a collection of essays, liturgies, and spiritual exercises focused on staying connected during difficult discussions. While the collection was designed to be helpful in congregational discussions of the 2019 UMC General Conference and the discussion of The Way Forward, it does not specifically address questions around human sexuality. Rather, it addresses the vanishing art of disagreeing without devolving into animosity. The diverse authors have created a book that speaks to all people without regard to their political party or position on human sexuality issues.
Untrustworthy: The Knowledge Crisis Breaking Our Brains, Polluting Our Politics, and Corrupting Christian Community by Bonnie Kristian. Drawing from her extensive experience in journalism and her training as a theologian, Kristian explores social media, political and digital culture, online paranoia, and the press itself. She explains factors that contribute to our confusion and helps Christians pay attention to how we consume content and think about truth. Finally, she provides specific ways to take action, empowering readers to avoid succumbing to or fueling the knowledge crisis.
The Psychology of Christian Nationalism: Why People Are Drawn In and How to Talk Across the Divide by Pamela Cooper-White. How do we overcome polarization in American society? How do we advocate for justice when one side won't listen to the other and cycles of outrage escalate? In three brief, incisive chapters Pamela Cooper-White uncovers the troubling extent of Christian nationalism, explores its deep psychological roots, and discusses ways in which advocates for justice can safely and effectively attempt to talk across the deep divides in our society.
Common Ground: Talking about Gun Violence in America by Donald V. Gaffney. Newtown, Connecticut, native and Disciples of Christ minister Donald V. Gaffney brings a calm and compassionate voice to complex questions, offering a guide for individuals and groups to reflect on and discuss guns and gun violence. The book explores the place of guns in our individual and national histories, violence in Scripture, the legal issues surrounding gun rights, and ways in which we as moral, life-valuing people can bridge the divide to help solve the problem of gun violence in the United States. Includes discussion questions.
Small Group Studies
What Are We Fighting For? Coming Together Around What Matters Most by Thomas J. Bickerton. In this DVD study, Bishop Bickerton offers a way to move beyond all the discord to a hope-filled future by exploring how we can come together around what matters most so that the gospel of Jesus Christ becomes a vibrant part of our lives and witness.
Our Purpose is Love: The Wesleyan Way to Be the Church by David N. Field. Field presents a Wesleyan vision of the church as the embodiment of God's love in the world and explores the implications of this vision for our life together. With a special focus on the importance of unity for the church's witness, Field invites us to consider the ways in which embodying God's love can and should influence how we live as individuals and as communities of faith, calling us to reclaim and recommit to love as the center of who we are. A leader's guide is available.
The Causes, Evils, and Cures of Heart and Church Divisions: Study Edition by Francis Asbury, Jeremiah Burroughs, and Richard Baxter. This book was recommended for study to early Methodists as a spiritual cure for the human tendency to love self and ideas more than we love others: our colleagues, our neighbors, and our enemies. The study questions found throughout this book are suitable for cultivating spiritual formation within individuals and among a community. As you read about these causes and evils that divide our hearts from each other, nearly every individual will recognize the need for personal improvement in thoughts, words, and deeds.
Who Can We Be Together? A Biblical Exploration of Luke 13 by Candace Simpson. This study brings participants deeper into Jesus' teachings in this chapter of Luke to explore what it means to be in community. As the author notes, "It's not easy to build and sustain communities, especially when there are forces that drain us, exhaust us, and even push us to act uncharacteristically. And yet, we are called to act on the most ethical principles of our faith so we can witness the kin-dom of God on earth."
Bonus Free Download!
Politically Divided Congregations: A Curriculum for Reconciliation and Transformation by Sojourners. The goal of this curriculum is to provide a biblical framework and rationale and practical tools and tips for politically divided churches to create space for civil dialogue around social and political issues and to provide a theological foundation for transformative, faith-inspired engagement in anti-racism and justice work. The curriculum is designed to be sensitive to the challenges faced by congregations that are politically divided and/or that operate in very conservative parts of the country. The goal is to avoid further division and instead to build bridges of deeper understanding and common action built upon a deeper and shared biblical understanding of justice.
Additional Resources
For resources specific to the practice of conflict transformation in Christian communities, view our pathfinder of Conflict Transformation Resouces.
Request These Resources
These resources can be borrowed for free by anyone involved with a United Methodist Church in the North Carolina Conference. We will mail them to your home! All you need to do is fill out the Resource Request Form.
Featured image by Kathleen Barry, United Methodist Communications.