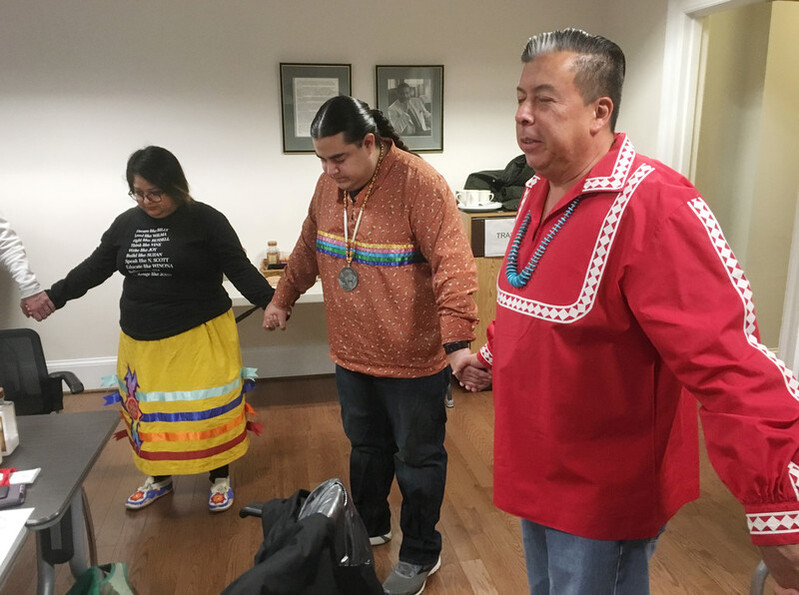 November is National Native American Heritage Month. Take this opportunity to learn about the history of Native Americans and their relationship to The United Methodist Church. Become inspired by Indigenous wisdom and educated about Indigenous theology. Host a book discussion or study for your congregation.
The Media Center offers the following books and studies to use individually or in small groups. We also recommend the online videos listed below. Additional resources, including DVDs and websites, are listed in our Native American Resources Pathfinder.
The United Methodist Church also celebrates Native American Ministries Sunday in the Spring, giving you another opportunity to use these resources to educate your congregation. You can also use the Native American Ministries Pastor and Leader Kit.
A Week of Truth, Repentance, and Restoration for Our Children
The Native American International Caucus of the United Methodist Church designated September 30-October 6, 2022 as "A Week of Truth, Repentance, and Restoration for Our Children." You are invited to read and sign their statement, A Call to Truth Telling, Repentance, and Action.
Missing and Murdered Indigenous Women
Of grave concern is the startlingly high number of missing and murdered Indigenous women whose cases largely remain unsolved. The Missing Murdered Indigenous Coalition of NC offers programs and resources to work towards the prevention and resolution of these cases. The Robeson County Church and Community Center and a local group called Ministers for Justice are working with the police to bring justice to their community. The General Board of Church & Society of The United Methodist Church has reported on this issue in the Oklahoma Indian Missionary Conference and nationwide.
Online Videos
The General Commission on Religion and Race offers these three online videos to build discussion around issues that affect the Native American community.
Ongoing Acts of Repentance with Indigenous People. Reverend Chebon Kernell calls the church to participate more vigorously in ongoing acts of repentance, justice-making, and truth-telling about the historical and continuing impact of racism, specifically on Native Americans and indigenous people. Includes discussion guide.
Doctrine of Discovery. This discussion guide was developed by Christy L. Oxendine based on the Dismantling Racism webinar segment by Dr. Lisa Dellinger (Chickasaw and Mexican). The video segment is incorporated as part of the small group discussion.
Let's Talk! Native American Communities and COVID-19. Dr. Billy Beets and Mr. Shawn Terry of the Muscogee (Creek) Nation Department of Health talk about how COVID-19 has impacted Native American communities and their healthcare agencies.
Books for Study and Discussion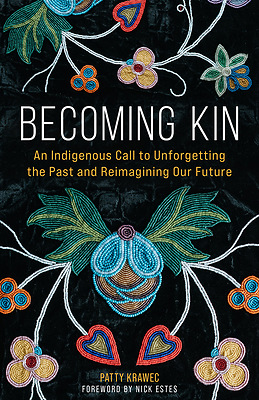 Becoming Kin: An Indigenous Call to Unforgetting the Past and Reimagining Our Future by Patty Krawec. Weaving her own story with the story of her ancestors and with the broader themes of creation, replacement, and disappearance, Krawec helps readers see settler colonialism through the eyes of an Indigenous writer. A free discussion guide for this book is available online.
Indigenous Theology and the Western Worldview: A Decolonized Approach to Christian Doctrine by Randy S. Woodley. This volume by a Cherokee teacher, former pastor, missiologist, and historian brings Indigenous theology into conversation with Western approaches to history and theology.
Ladder to the Light: An Indigenous Elder's Meditations on Hope and Courage by Steven Charleston. Choctaw elder and Episcopal priest Steven Charleston offers words of hard-won hope, rooted in daily conversations with the Spirit and steeped in indigenous wisdom. Native America knows something about cultivating resilience and resisting darkness. For all who yearn for hope, Ladder to the Light is a book of comfort, truth, and challenge in a time of anguish and fear.
Native: Identity, Belonging, and Rediscovering God by Kaitlin B. Curtice. Curtice draws on her personal journey, poetry, imagery, and stories of the Potawatomi people to address themes at the forefront of today's discussions of faith and culture in a positive and constructive way. As she shares what it means to experience her faith through the lens of her Indigenous heritage, she reveals that a vibrant spirituality has its origins in identity, belonging, and a sense of place.
Healing Haunted Histories: A Settler Discipleship of Decolonization by Elaine Enns and Ched Myers. Part memoir, part social, historical, and theological analysis, and part practical workbook, this process invites settler Christians (and other people of faith) into a discipleship of decolonization. How are our histories, landscapes, and communities haunted by continuing Indigenous dispossession? And how might we practice restorative solidarity with Indigenous communities today?
Native Americans, the Mainline Church, and the Quest for Interracial Justice by David Phillips Hansen. This book tells the sordid history of Native Americans and the Christian church with an eye towards reparation and what the contemporary church can do and is doing to work towards racial, economic, environmental, and social justice.
On This Spirit Walk: The Voices of Native American and Indigenous Peoples by Henrietta Mann and Anita Phillips. The Native American Comprehensive Plan of The United Methodist Church created this small-group curriculum resource to share the voices of native people on topics that are important to them. The 12 chapters focus on topics such as identity, values, storytelling, creation, justice, repentance, and more. Each chapter concludes with discussion questions.
Voices of Native American Women edited by Delrayne Roy. As a supplement to their mission study, United Methodist Women published this enlightening booklet that shares the voices of 23 Native American women of faith on a variety of topics such as voice, family, social justice, faith journeys, and their relationships with the United Methodist and the Native church.
History Books
The Lumbee Methodists: Getting to Know Them: A Folk History by Joseph Michael Smith and Meet the Lumbee Methodists, Part II by Milford Oxendine. This set of two books shares the special history of the relationship between the Lumbee Indians and the United Methodist Church in North Carolina. The stories of several churches in the NC Conference are included in these valuable histories.
Massacre at Sand Creek: How Methodists Were Involved in an American Tragedy by Gary L. Roberts. At dawn on the morning of November 29, 1864, Colonel John Milton Chivington gave the command that led to the slaughter of 230 peaceful Cheyennes and Arapahos—primarily women, children, and elderly—camped under the protection of the U. S. government along Sand Creek in Colorado Territory and flying both an American flag and a white flag. The governor whose policies led the Cheyennes and Arapahos to Sand Creek was a prominent Methodist layman. Colonel Chivington was a Methodist minister. This book tells the history of this tragedy and the role and response of the Methodist Church.
An Indigenous Peoples' History of the United States by Roxanne Dunbar-Ortiz. Acclaimed historian and activist Roxanne Dunbar-Ortiz offers a history of the United States told from the perspective of Indigenous peoples and reveals how Native Americans, for centuries, actively resisted expansion of the US empire. This book is an essential resource providing historical threads that are crucial for understanding the present.
Giving Our Hearts Away: Native American Survival by Thom White Wolf Fass. The United Methodist Women published a Mission Study that tells the history of the United States from a Native American perspective. The histories of contemporary issues facing Native Americans are revealed. The book includes an 8-session study guide and additional resources. Youth and children's versions are also available.
First White Frost: Native Americans and United Methodism by Homer Noley. With all of the triumphs and failures, this book gives an account of Methodists' attempts at evangelizing Native Americans going all the way back to the 1600's.
Youth & Children
Walking in These White Man Shoes: Youth Explore Native America and Creator Sang a Welcoming Song: Native America for Children by Ray Buckley. These mission studies include narratives of the history of what is now the United States told from a Native American perspective, telling the story of events that unfolded out of the clash of Native and immigrant cultures with their competing ideologies, religious practices, and spiritual lifestyles. Participants learn of the Native experience of trying to live in two worlds, one of which didn't quite fit.
The Give-Away: A Christmas Story by Ray Buckley. A story rich in the Native American Tradition of the Give-Away. The animals try to help humankind find their way, but "in the end, it is the Creator who must choose to give to humankind the most precious gift of all."
Request These Resources
These resources can be borrowed for free by anyone involved with a United Methodist Church in the North Carolina Conference. We will mail them to your home! All you need to do is fill out the Resource Request Form.