The #BeUMC campaign reminds us of who we are at our best — the spirit-filled, resilient, connected, missional, faithful, diverse, deeply rooted, committed, disciple-making, Jesus-seeking, generous, justice-seeking, world-changing people of God called The United Methodist Church.
Our focus this month is on our resiliency in the face of COVID-19, natural disasters, mental health challenges, and other daily struggles. As United Methodists, we persevere through trials and face tomorrow with God at our side.
Resilience & Hope
Building Resilience: When There's No Going Back to the Way Things Were by Alice Updike Scannell. How do we develop the resilience that empowers us to be ourselves in the face of change? How do we learn to be courageous when days are difficult? How do we build our capacity for healing and growth when we can no longer do the things we once did that gave our lives satisfaction, meaning, and purpose? Building Resilience offers a path toward creativity in responding to change in your life, regaining some control over your circumstances, and overcoming feelings of helplessness. Whether you're 17 or 75, if life has thrown you a curveball, this book can help you get on track toward being yourself in your new normal.
Tempered Resilience: How Leaders are Formed in the Crucible of Change by Tod Bolsinger. What type of leadership is needed in a moment that demands adaptive change? Exploring the qualities of adaptive leadership within churches and nonprofit organizations, Tod Bolsinger deftly examines both the external challenges we face and the internal resistance that holds us back, showing how leaders can become both stronger and more flexible. A study guide for this book is also available.
Ladder to the Light: An Indigenous Elder's Meditations on Hope and Courage by Steven Charleston. Choctaw elder and Episcopal priest Steven Charleston offers words of hard-won hope, rooted in daily conversations with the Spirit and steeped in indigenous wisdom. Every day Charleston spends time in prayer. Every day he writes down what he hears from the Spirit. In Ladder to the Light, he shares what he has heard with the rest of us and adds thoughtful reflection to help guide us to the light. Native America knows something about cultivating resilience and resisting darkness. For all who yearn for hope, Ladder to the Light is a book of comfort, truth, and challenge in a time of anguish and fear.
Hope for Hard Times: Lessons on Faith from Elijah and Elisha by Magrey R. deVega. There is hope for you in hard times. Your story of hurt, heartache, and hopelessness has been heard, and God has a message for you: don't give up, don't lose hope. God is with you and will give you everything you need. It's the same message God gave to Elijah when he was so alone he hid in a cave. And it's the same message he gave to Elisha when he was surrounded by his enemies. In Hope for Hard Times, you'll discover how these two great, biblical prophets trusted God to find a way for them. Read these stories, pray, and listen as you receive encouragement and guidance for whatever you are facing today.
Looking for God in Messy Places: A Book about Hope by Jake Owensby. This book is for anyone who has ever been frozen in place by loss or regret or endured suffering, cruelty, or rejection. Quite simply, it is a book about hope. How to find it. How to practice it. How to grow in it. How it makes life worth living. Because when we look for God in the middle of the mess, we find hope. Includes discussion questions. An online video series for this book is available to Amplify subscribers.
Elijah: Spiritual Stamina in Every Season by Melissa Spoelstra. You'll learn the spiritual stamina secrets that helped this great prophet hold on and persevere in faith, including practical habits related to making decisions, caring for the soul, accepting circumstances, mentoring, and finishing well—Elijah's ultimate legacy. He doubted and struggled just as we do, but he chose to believe God through it all. As you study his life through a combination of study of Scripture with personal reflection, application, and prayer, you will grow in faith and develop spiritual stamina that will help you not only to survive but to thrive in every season. This women's study includes a DVD, leader guide, and participant book.
COVID Response
In addition to these books that you can borrow, be sure to explore the online resources available on the NC Conference Coronavirus Response page.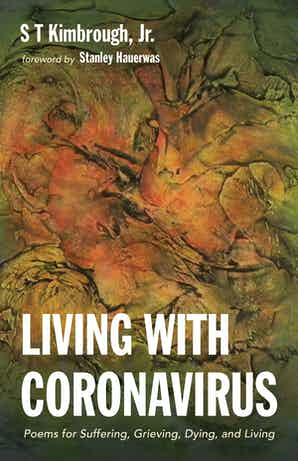 Living with Coronavirus: Poems for Suffering, Grieving, Dying, and Living by S. T. Kimbrough, Jr. This volume of poems addresses the human effects of the coronavirus pandemic including prolonged illnesses, death, disruption of society, families, the workforce, and economy. The poems also address issues the pandemic has brought into the open, such as racism, the vulnerability of the poor, and the importance of governmental leadership in a national and worldwide crisis. People of faith emphasize the importance of a faith response to our common humanity amid suffering. Among many other questions, they ask: How shall we live with the enduring problem of pandemics that require changing of attitudes and an ongoing concern for others?
The Great Coronavirus Pandemic and Messages from the Prophets by Doman Lum. Doman Lum crafts twenty-one sermons that preach the good news of God's love. The story of the great pandemic involves the impact of COVID-19, President Donald Trump, the murder and killings of African Americans, and the 2020 presidential election. The Old Testament prophets and contemporary biblical theologians share spiritual insights, faith, and trust. Lum encourages the reader to become involved in the public response, the public health programs, and government responsibility to cope with this health crisis as citizens of the United States. This book features the reading of Scriptures, profound and thoughtful sermons, and pastoral prayers.
Preaching in the Midst of … How Black Preaching has Changed in the COVID-19 Pandemic by Amiri B. Hooker. United Methodist Pastor Amiri B. Hooker wrote this book while he was sick with COVID-19, pulling together his notes on preaching and how it has changed in the midst of the fear, uncertainty, new technological challenges, and ever-changing scope of the church today. This groundbreaking book explores the innovative and Spirit-filled ways Black preachers are bringing Jesus and justice to the people. A fierce challenge to rise up and embrace prophetic, transformative preaching, it draws from a rich blend of hip hop artists, theologians, and other intellectuals as it guides readers toward a new paradigm for bringing the gospel message with relevance, authority, and truth.
The Church Recovery Guide: How Your Congregation Can Adapt and Thrive After a Crisis by Karl Vaters. In the midst of the COVID-19 pandemic, church leaders are facing challenges they've never encountered. The Church Recovery Guide outlines the practical steps you can take to help your church not only survive but also thrive in the aftermath of the coronavirus crisis. Pastor Karl Vaters offers insights from his extensive experience in church ministry to help you think through: – Reconnecting with your congregation – Dealing with the financial repercussions – Encouraging and supporting your staff – Clearly communicating a fresh vision for the future – Reworking your church's technology and online strategy – Ministering to people feeling isolated and fearful. The Church Recovery Guide will provide the direction you need to help your church bounce back to full health and chart a path forward to even greater vitality.
The Post-Quarantine Church: Six Urgent Challenges + Opportunities That Will Determine the Future of Your Congregation by Thom S. Rainer. From thousands of surveys of church leaders and in-person consultations, Thom Rainer and his Church Answers team have gathered the essential wisdom you will need to face the challenges and opportunities that the quarantine crisis creates for the local church, including: New and better ways to lead the gathered church; A wide-open door for growing the digital church; A moment to rethink the facilities; New strategies for church growth . . . and much more! This book is, in effect, your personal church consultant, helping you plan and prepare for the future.
We Shall Be Changed: Questions for the Post-Pandemic Church edited by Mark D. W. Edington. This book is a gathering of brief essays from thought leaders around the church on pressing topics that the church needs to be considering now—in preparation for the end of this pandemic. The book is designed to spur conversation within parishes, fellowship groups, and clergy gatherings about how to embrace the gifts this time has given while anticipating and addressing the very real challenges the church will confront in its wake.
Disaster Response
The United Methodist Church is recognized as a world leader in disaster response. Learn more about Disaster Ministries in the North Carolina Conference.
Growing Through Disaster: Tools for Financial and Trauma Recovery in Your Faith Community by Clayton L. Smith and Matt Schoenfeld. This book shows faith communities how to come together to combat hopelessness and gain/regain financial strength. No matter the type of disaster, the authors' vast experience in assisting communities through recovery can help lead your own community through the process of spiritually-rooted renewal and revitalization. There is a six-session group study to assist pastors and others in facilitating discussion and focus on recovery strategies. The study offers Scripture-based hope and encouragement as a way for people to process trauma together in a safe place.
Help and Hope: Disaster Preparedness and Response Tools for Congregations by Amy Gopp and Brandon Gilvin. Whether the disaster is natural or created by humans, churches respond by providing sanctuary, hope, and practical aid. Pulled from accounts of laypersons and "pastors in disasters," Help and Hope provides practical applications for nonprofessionals and volunteers from faith communities who want to help prepare for and respond to disasters. This book is designed with utility in mind, with quick reference tabs, checklists, and space for your own notes. Help and Hope prepares you to be, literally, the shelter from the storm.
God, why? Teachings from the Tsunamis (DVD) by United Methodist Communications. A two-session small group study DVD and CD-ROM providing resources to help Christians better understand God's activity in the midst of natural disasters. Using the South Asia tsunamis as an anchor, practical – yet spiritual – answers are provided to help us address our confusion. The CD-ROM includes a study guide, PowerPoint presentation, news stories, and worship resources.
Church Care for Mental Health
The Caring Congregation Ministry Care Implementation Guide by Karen Lampe and Melissa Gepford. Although caring for one another within a church family may seem easy, the theology of caring and the practicalities involved and even visitation etiquette are issues about which Congregational Care Ministers must be aware and understand. In The Caring Congregation Ministry, Karen Lampe and Melissa Gepford have put together an indispensable implementation guide that equips pastors and lay leaders of any size, type, or denomination of church with all the necessary resources needed to build and sustain a Congregational Care ministry, including handouts, worksheets, and templates, in addition to advice on teaching people how to listen, comfort, and encourage congregants. This resource also uses a Care Minister's Manual.
The Caring Congregation: How to Become One and Why It Matters by Karen Lampe. Using this four-session study, churches can form an effective team by addressing four key areas of congregational care: prayer ministry, support ministry, hospital visitation, and grief and death ministry. Karen Lampe says congregational care should be modeled after the ministry of Jesus, who offered compassion, understanding, healing, and wholeness as a way of offering God's redemptive gift of grace. In each richly illustrated session, readers will find inspiration, Bible-connection, skill-building, practical tips, and resources.
Crisis Counseling in the Congregation by Larry E. Webb. Every pastor knows that each community of faith consists of individuals who may be in crisis at any given moment, for a multitude of reasons. However, it's essential that church leaders also view their congregations as a single organism in need of looking after as a whole. This book explores the core competencies, skills, and knowledge available to and needed by pastors so that they can provide suitable care for the most common needs of their members. Crisis Counseling in the Congregation provides a basic tool kit including in-depth listening skills, helping questions, various frameworks, and when to refer.
Among the Many: Wisdom, Companionship, and Hope for Those Who Have Lost a Loved One to Drug Overdose (DVD). Thousands of families are affected by the drug epidemic in our country. Those who suffer the loss of a loved one to overdose are left questioning and often alone. The truth is that addiction is a disease, just like cancer. And while addiction leaves devastating loss in its wake, those who grieve are not alone, and there are people and resources to help. With testimony from addiction experts, and family members who have walked through this tragic loss, Among the Many offers hope for anyone grieving the death of a loved one to overdose.
The Recovery-Minded Church: Loving and Ministering to People with Addiction by Jonathan Benz with Kristina Robb-Dover. You want to have vibrant and healthy relationships with those who struggle with addiction in your church and community. But you find yourself wondering how to meet their needs in a wise, helpful, and God-honoring way. The Recovery-Minded Church addresses the pressing questions you are facing in ministering to those with addictions. Here you will discover a clinically informed, biblical, and theological framework to love the addicts in your midst and also practical tools to help you succeed in doing so, including discussion questions after each chapter for use in small group settings.
Mental Illness and Families of Faith: How Congregations Can Respond (DVD). This two DVD set helps educate faith communities about various mental health issues. Through education, we can erase the stigma associated with these "no-fault" illnesses and provide congregations with examples of how they can become supportive and caring communities for individuals and families affected by mental illness. These eight shows cover a variety of mental health issues. Professionals provide important information about each illness, but mostly you will hear from real people who live with these challenges. Each segment presents an issue related to the experience of mental illness, puts a face to the issue, and offers a message of hope. The shows are short enough to be used in a variety of settings including classes and small groups. Each segment has a discussion guide with background information, questions for discussion, and where to find additional resources.
For Youth & Children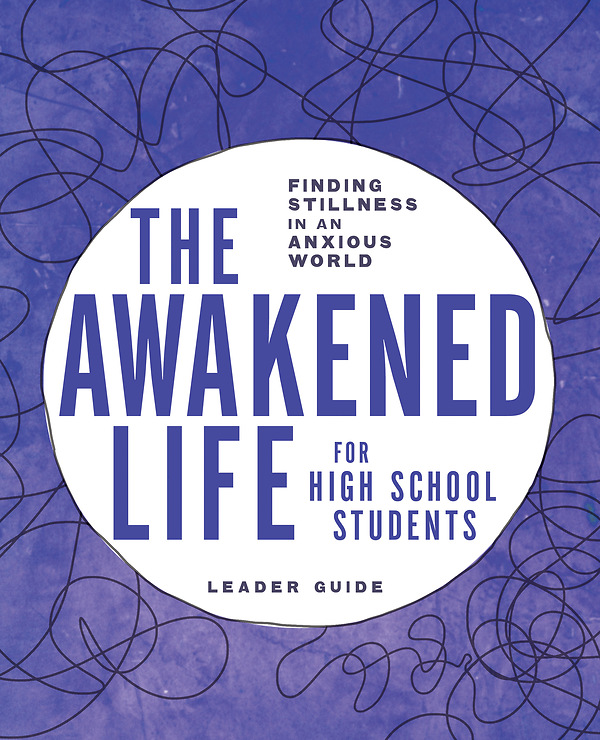 The Awakened Life for High School Students: Finding Stillness in an Anxious World by Sarah E. Bollinger and Angela R. Olsen. One out of five teens lives with depression, anxiety, or another mental illness. Some come to believe that worry, isolation, and fear are all life has to offer. Yet God created us for lives full of joy, well-being, and connection. The Awakened Life for High School Students is an eight-week small-group guide that empowers teens to awaken to a more abundant life through practices that build resiliency, teach psychosocial skills, and foster emotional and spiritual well-being. It is designed to be led by those who provide spiritual and emotional care to students but who are not professional counselors or therapists. Over the course of this study, students will learn how to connect with their own minds and bodies, expand their understanding of the importance of connection to others, develop connections to nature, and then combine all of these practices to build a resilient, joyful, and awakened life. This resource uses a leader guide and student guide.
The Volunteer's Guide to Helping Teenagers in Crisis (DVD) by Rich Van Pelt and Jim Hancock. Van Pelt and Hancock recommend and detail a program for dealing with crises in a way that will be most helpful for struggling teens. They've divided their approach into four stages: * Understanding various crises and their potential consequences. * Spotting crises by learning to recognize signs and get the whole story. * Responding to crises by initiating contact, managing confidentiality, and taking follow-up steps to ensure teens receive professional help as necessary. * Preventing crises by creating a safe environment and sharing information with teens. Van Pelt and Hancock have compiled a helpful, comprehensive guide invaluable to anyone working closely with teens. This resource also uses a participant's guide.
A Cry for Help: How to Help a Friend Who is Depressed or Suicidal (DVD). In the wake of a suicide, family members and friends wonder what they could have done to help, how they could have prevented this tragedy. Made for a teen audience, A Cry for Help educates young people to recognize the signs of depression and suicide in their peers. Featuring Sue Eastgard, President of The American Association of Suicidology, and groups of teens, this video talks about how to intervene and get help when a friend is contemplating suicide. A Cry for Help prepares young people to listen and care in one of the most challenging situations they might ever face: stopping a friend from taking his or her own life. Includes a resource booklet.
One Rainy Day I Took Jesus to School With Me: A Story of Hope written and colored by the children of First United Methodist Church, Washington, NC. Jesus goes with a young child to school and protects everyone at the school from an unexpected tornado. After the tornado, Jesus disappears and a homeless man who worked as a custodian at the school stands in his place, but the child finds Jesus' sandals as a reminder of his presence. The United Methodist Committee on Relief comes to help the town after the tornado. The book was written and colored by elementary school children at First United Methodist Church in Washington, NC as a fundraiser for the United Methodist Committee on Relief after a tornado came to their town.
Additional Resources
Find additional resources for the resilient people of God on our Weathering Storms and Mental Health pathfinders.