Earth Day and Spring are approaching. Hooray! Get your congregation excited about leaving winter behind with online opportunities, churchwide initiatives, group study resources, and youth and children's activity ideas from the NC Conference Creation Care Team and the NC Conference Media Center.
Online Book Club
Join the NC Conference Creation Care Team at monthly online book discussions. The next meeting is March 22nd at 10:30am when they will be discussing Hospitable Planet: Faith, Action, and Climate Change by Stephen A. Jurovics who will be joining the conversation.
Redeeming Creation Conference
Come be a part of the first ever creation care conference held within and by the NC Conference of the United Methodist Church, and learn what the Bible says about creation, and how we can apply these teachings in our homes, offices, and churches. The Redeeming Creation Conference will be on May 15th, 9:00am-4:00pm on Zoom.
The keynote speaker for this event is Dr. Jerusha Neal, Assistant Professor of Homiletics at Duke Divinity School. Participants will also be led in a Bible study by esteemed professor and theologian Dr. Ellen Davis, as well as get a look at the work being done for environmental and racial justice with the Rural Advancement Foundation International. The day will be topped off with a panel discussion on the false disconnect between faith and science.
Green Your Church
The Creation Care Team provides the Green Church Initiative for local churches to use in becoming better caretakers of God's creation.
It begins with a document that outlines a variety of steps churches can take to improve their creation stewardship, covering subjects including water and energy consumption, waste production, education, food and agriculture, landscaping, and more. As a church, you will evaluate your green performance from the past year and commit to actions for improvement. Each improvement is awarded points; once your church acquires 90 points, you become a certified Green Church and will be recognized by the Conference.
Worship Service & Study Videos
The NC Conference Creation Care Team created an online worship service that you can use for your church at any time. Additionally, they offer a series of archived webinars great for group discussion or individual study. Find these videos on the NC Conference Vimeo page.
Group Study Resources
The NC Conference Media Center recommends the following DVDs and books to study with adult small groups. These resources can be borrowed by anyone involved with a United Methodist Church in the NC Conference. We will mail them to your home! All you need to do is fill out the Resource Request Form.
Small Group Studies
Serving God, Saving the Planet: A Call to Care for Creation and Your Soul by Matthew Sleeth. This 12-session study provides simple, everyday ways to focus on stewardship and sustainability according to Scripture. It broadens the conversation with an emphasis on the dangers of materialism, workaholism, and spiritual bankruptcy—as well as God's endless invitations for us to enjoy what He has created. There are a DVD, guidebook, and original book available for this study.
Organic Wesley: A Christian Perspective on Food, Farming, and Faith by William C. Guerrant, Jr. This 10-session study examines the intersection of the teachings of John Wesley with the ethics of the contemporary food movement. Wesley and his followers recognized the importance of nutritious diets, moderation in consumption, the humane treatment of animals, and the ethics of food choices in ways that may be surprising to Christians today. This study can use just the book or include the accompanying DVD.
Climate Justice: A Call to Hope and Action edited by Pat Watkins. This 8-session study produced by United Methodist Women is not just for women's groups. It will challenge you to see what needs to happen for climate justice to become a reality in the world today. This will entail not just focusing on the environment, but also asking hard questions regarding financial profit, a growing economy, our independent way of thinking, and our understanding of efficiency. This study uses a book and can include viewing of an accompanying DVD documentary.
Books for Discussion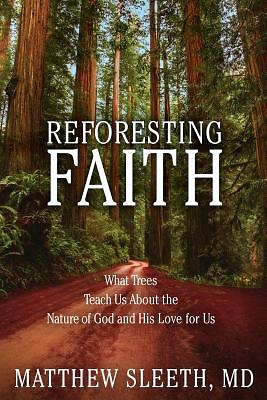 Reforesting Faith: What Trees Teach Us About the Nature of God and His Love for Us by Matthew Sleeth. The Bible talks about trees more than any living creation other than people. In this groundbreaking walk through Scripture, former physician and carpenter Dr. Matthew Sleeth makes the convincing case of why trees are essential to every Christian's understanding of God.
Drawdown: The Most Comprehensive Plan Ever Proposed to Reverse Global Warming edited by Paul Hawken. An international coalition of researchers, professionals, and scientists have come together to offer a set of realistic and bold solutions to climate change. One hundred techniques and practices are described here—some are well known; some you may have never heard of. The Creation Care Team hosted a webinar on this book that can supplement your discussion.
Watershed Discipleship: Reinhabiting Bioregional Faith and Practice edited by Ched Myers. This collection introduces and explores "watershed discipleship" as a critical, contextual, and constructive approach to ecological theology and practice, and features emerging voices from a generation that has grown up under the shadow of climate catastrophe. Watershed Discipleship is a "triple entendre" that recognizes we are in a watershed historical moment of crisis, focuses on our intrinsically bioregional locus as followers of Jesus, and urges us to become disciples of our watersheds.
A Hopeful Earth: Faith, Science, and the Message of Jesus by Sally Dyck and Sarah Ehrman. This 6-session book study draws together the Christian faith of United Methodist Bishop Sally Dyck and the scientific world of her niece, Sarah Ehrman, to address the climate crisis. The study will bridge the gap between Jesus and the environment and guide readers in understanding that living as good stewards of God's creation is a significant component of what it means to follow Jesus. A leader's guide for this book is also available.
For Youth & Children
Joining Voices for Climate Justice: A Study for Youth by Jay Godfrey and God's Extravagant Garden: A Children's Study on Climate Justice by Pat Hoerth. These 4-session studies from United Methodist Women are companions to the adult study, Climate Justice, listed above. The youth study will encourage youth to interact with the voices in each session to deepen their understanding of climate change through perspectives from around the world. In the children's study, children are encouraged to learn more about God's creation through experiencing it first-hand during each of the sessions.
Burst: Green Church by Tim Gossett and Green Church: Caretakers of God's Creation by Daphna Flegal and Suzann Wade. These 6-session studies for youth and children will help participants experience what it means to be good stewards of God's Creation. They will show how caring for the earth is a way to honor God and show love for our neighbors.
It Is Easy Being Green! 60 Bible Stories & Crafts With the Earth in Mind by LeeDell Stickler. This book features sixty exciting craft projects that children will enjoy making while learning about the Bible and building their faith. Simple "green" crafts accompany a related Bible story. Teachers will enjoy clear, step-by-step instructions, along with a materials list featuring green or recycled products.
Additional Resources
View a complete list of resources that you can borrow from the NC Conference Media Center that are related to creation care. Stay up-to-date on NC Conference events and initiatives at our Creation Care website.
Featured image of the Cape Fear River by Rich Brents on Unsplash